Wednesday, September 24, 2014
SU Team Creates Sea Gull Century App for Cyclists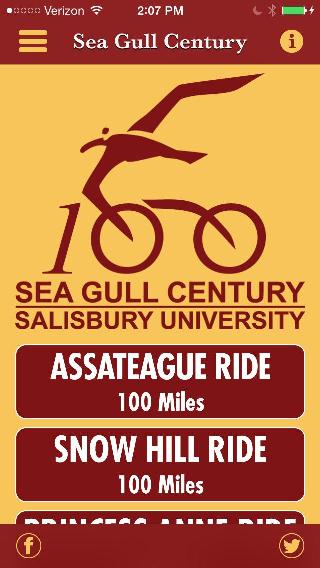 SALISBURY, MD---Cyclists participating in the Sea Gull Century bike ride may now use a free mobile application developed by Salisbury University students and faculty to track their progress.

In addition to showing specific rider locations along the three Lower Shore routes, the app also displays their speed, nearby vendors and rest stops. The iOS version may be downloaded via the iTunes store; the Android version is available from Google Play.

"This originally started as a research project but grew to a bigger application that the SU Foundation thought could be useful for the Sea Gull Century," said Brandon Altvater, a senior computer science major from Berlin. He will be at welcome festivities for the Century from 5-8 p.m. Friday, September 26, to demonstrate and promote the app to cyclists.

.: Related Sites :.

.: Related News :.

"This was the perfect opportunity for students to gain valuable real-world experience and successfully overcome challenges in app development," said Dr. Steven Lauterburg of SU's Mathematics and Computer Science Department. He guided a team of students in creating the app software for the two mobile platform operating systems using data provided by students and faculty from the Geography and Geosciences Department and the Eastern Shore Regional GIS Cooperative at SU.

That group, led by Dr. Art Lembo, supplied geographical positioning information, map data files and GPS coordinates for waypoints, facilities and vendors. Students also evaluated the needs riders to help make the end project relevant and accessible.

"This effort exposed our students to the challenges of technology, collaboration, deadlines and more," said Lembo, who oversees GNAppWorks, an interdisciplinary mobile application development initiative at SU.

The research project, "Creating the Sea Gull Century Mobile Application – A Multi-Discipline Effort," was presented by Rob Close, a senior computer science major from Delmar, and Hilary Vernon, a 2014 mathematics graduate from Crofton, at the University of Maryland Eastern Shore's fifth annual Regional Research Symposium. They earned first place in the undergraduate oral presentation category for their work.
"The project mimicked working for a small start-up company and, as a software developer, it provided us with an important real-world experience," Vernon said.
Altvater estimates over 200 hours of development and four design revisions went into the iOS version. Other students involved with the project included Tyler Frost of Elkton, MD, and Joshua Souders of Severna Park, MD. Both graduated with computer science degrees in May 2014.
"This is an easy way for our cyclists, who've long used paper cue sheets and painted Sea Gulls on roadways, to find out where they are on the course," said Amy Waters, Century coordinator.
More than 6,000 cyclists are expected for the 26th ride on Saturday, September 27.
For more information, visit www.SeaGullCentury.org.