SU Students and Faculty Study Literature in Ghana
Monday March 30, 2009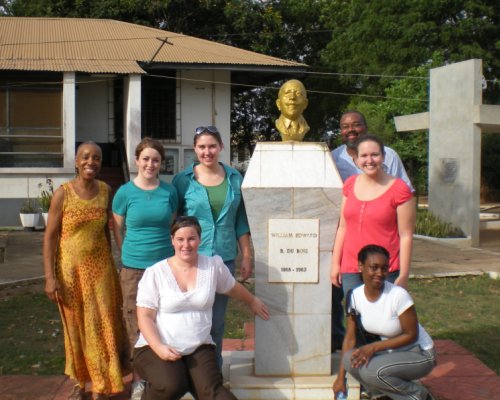 Pictured is Dr. James King of SU's English Department with his students at the W. E. B. Du Bois Museum in Accra, the capital of Ghana. Also pictured is Dr. Anne V. Adams, director and curator.
SALISBURY, MD---Located on the West Coast of Africa, Ghana is home to the ports where, for centuries, millions of Africans boarded slave ships destined for the new world, never to return to their homeland.
During spring break, five Salisbury University students made the opposite journey back to Ghana's Cape Coast as part of their study of the Literature of the African Diaspora.
Led by Dr. James King of SU's English Department, the students explored sites related to the history of slavery in the coastal and central regions of Ghana.
"This trip represents the beginning of a formal relationship between Salisbury University and the University of Ghana at Legon, one that will hopefully yield opportunities for student and faculty exchange, as well as study abroad possibilities," King said.
The SU students were Tamika Hall, Jessica Hall, Mary Malone, Hannah Wellman and Ashley Loebach. They visited two slave castles at Elmina and Cape Coast, as well as the final resting places of Kwame Nkrumah, Ghana's first president, and W.E.B. Du Bois, an African-American sociologist and public intellectual who lived his final years in Ghana as its "first citizen."
They also attended lectures on the history of Ghana, the ontology of indigenous languages and the unique history of the Asante kingdom, located in Ghana's central region.
The trip was made possible in part by the Henry C. Welcome fellowship that King received from the Maryland Higher Education Commission in fall 2008. A $20,000 grant over three years, it helped offset the students' cost of the one-week travel project.
Recently awarded a Fulbright Scholarship, King will lecture and conduct additional research at the University of Ghana at Legon and surrounding sites during the spring of 2010 to complete a co-authored book on the history of the Pan-African movement in Ghana, examined via the connections between Nkrumah, Du Bois and their project, The Encyclopedia Africana, between 1961 and 1963.
King earned his Ph.D. in English literature from the City University of New York's Graduate School and University Center in Manhattan. He joined the SU faculty in 2007 and specializes in 20th century African-American literature and the literature of slavery.
For more information call 410-543-6030 or visit the SU Web site at www.salisbury.edu.
SHARE