Wednesday, March 30, 2016
SU Students Spend Time Behind the Camera for Independent Film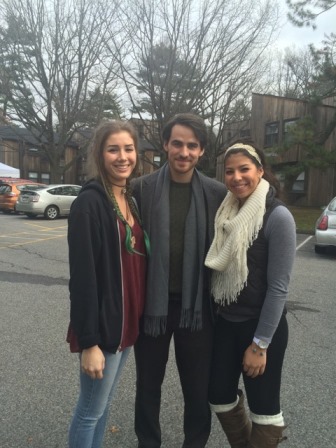 Kate Granzier, Colin O'Donoghue and Phoebe Kolesar
SALISBURY, MD---While many of their friends were binging on movie marathons during winter break, four Salisbury University students spent time in New York on the other side of the camera.

Leslie Yarmo, associate professor in SU's Music, Theatre and Dance Department, invited students to intern with her while she was costume designing the independent film Carrie Pilby, shot in New York in late 2015 and early 2016. They included freshman communication arts major Phoebe Kolesar of Frederick, MD; junior theatre major Kate Granzier of Lutherville, MD; senior communication arts major Mihret Asfera of Rockville, MD; and junior theatre major Niamani Robinson of Suitland, MD.

Based on the novel of the same name by Caren Lissner, Carrie Pilby follows the life of a 19-year-old genius who, following the advice of her therapist (played by Nathan Lane), begins making friends and dating men who challenge her beliefs in an attempt to better fit in with society.

Unlike the title character, SU's students had little trouble fitting in on the film set.

"It was so worth it," said Kolesar, who stayed at temporary residences in the city and ended up working three weeks on the film, including one as a paid assistant. "I woke up the first morning and was like, 'Am I really doing this?' I went home every night so happy that I had this opportunity."

So happy, in fact, that she often chose to work longer than her required hours, sometimes putting in up to 12 hours a day. Joining Yarmo in costuming, she began her first job in the movies doing something many of her contemporaries may envy: shopping.

"Leslie met with me the second day, and right off the bat we started shopping for the production," she said, adding that included five hours at a shopping mall and various department stores in and around New York. She hopes the experience helps her with her plans to work in public relations at a fashion firm after graduation.

Her work on the film was not limited to just purchasing clothing. She also got to attend fittings for actors including one of the film's stars, Colin O'Donoghue, at the director's hotel suite, an experience she called "really cool." With Granzier, she also got to appear in front of the camera as an extra.

"The production assistant and I clicked right away," she said, adding she already has been offered more movie work this summer. "I would go back in a heartbeat."

Granzier, who worked 10 days on the film with Yarmo in costuming, also enjoyed the fast-paced atmosphere.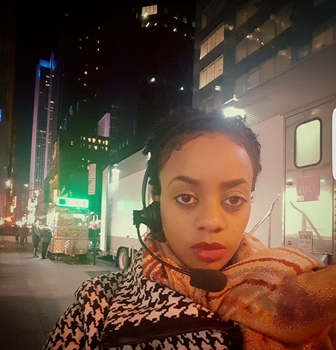 Mihret Asfera
"It didn't really feel like work," she said, adding that her duties included returning unused costume pieces to the stores from which they were purchased. She hopes to make a career in film. Working on the movie gave her a taste of the many options available to her in the industry.

"It was a really good insight into my future," she said.

Like Kolesar and Granzier, Asfera began her three weeks on the film in costuming with Yarmo. For her final two weeks, however, she explored her interest in media production by working on set with the assistant directing team. Her duties included checking in extras and walking them to the hair and makeup departments, walking actors from their trailers to the filming location, keeping people out of the filming area during scenes and, though it may sound cliché, saying "Quiet on the set!" — a lot.

Currently interning with WBOC-TV in Salisbury, she ultimately would like to act, direct, and produce films and documentaries. She hopes her experiences in New York will help her reach that goal. Between filming, she got a ticket to be part of the studio audience at The Wendy Williams Show, using the opportunity to inquire about internship openings at the daytime talk show.

In addition, she networked with many production workers on the set of the film.

"I plan to contact them upon graduation to see if they have any projects I can work on or any referrals," she said.

With aspirations to work in set design, Robinson assisted the set dressers in the art department.

"We did a scene on a rooftop in Soho at a penthouse," she said. "It was supposed to be a night party. We set up everything from the lights to the drinks. It was interesting to see it transform from a plain room to a party in just two hours."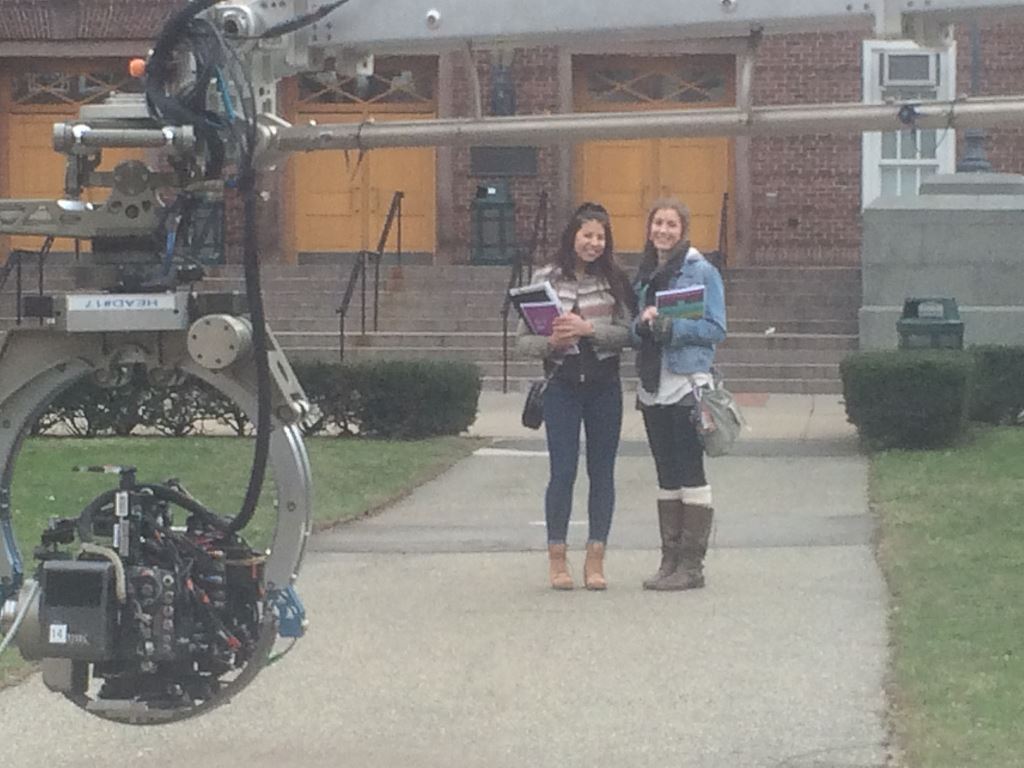 Phoebe Kolesar and Kate Granzier
The experience helped her understand the differences between stage and film productions — mostly the waiting. In theatre, once the scene is done, it's done until the next performance. In movie production, however, set dressers are expected to set the scene again and again until the director is happy with the take.

Yarmo said independent films like this were great places for students to learn about the industry.

"Studios don't really use interns anymore," she said. "The independents can be more elastic, more flexible. It really gave our students experience that they can use in their careers.

Yarmo also hoped the work students put in on this and previous movies, including the independent films Urge and Freeheld, released last year, will benefit future SU students.

"Finding film internships has become more difficult in recent years," she said. "In addition, most people working in the film industry do not teach (the schedules are too difficult to juggle), so it is difficult for students to find productions that might be willing to take them on and vice versa.

"We now have a number of students who have been interns on these films in New York, and more producers know that SU might be a resource for them. SU students whom I set up in internships on films last year went on to paid positions and are still working in the industry."

Produced by Suzanne McNeill Farwell, known for such films as The Intern, It's Complicated and Something's Gotta Give, Carrie Pilby stars Bel Powley, Colin O'Donoghue, Nathan Lane, William Moseley and Jason Ritter. The movie is slated for theatrical release this fall.

For more information call 410-543-6030 or visit the SU website at www.salisbury.edu.