Wednesday, November 17, 2010
SU Student Sculpture Becomes Ninth in Downtown Collection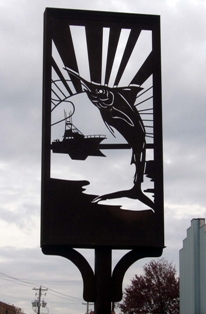 SALISBURY, MD---"Marlin," a sculpture designed by Salisbury University student Anne Vincent, recently became the ninth to be installed in downtown Salisbury as part of a public art project in a joint venture between Urban Salisbury, the SU Art Department, MaTech Industries, R.D. Grier and Sons, and the City of Salisbury.
Located on Carroll Street, the sculpture was commissioned by Bill and Judy Hearne in honor of their son.
The sculpture collection began in 2001 to create a path through downtown Salisbury featuring original pieces of artwork created by local students. Since then, students, faculty and local businesses have contributed their talent and time to produce the sculptures.
The first four were installed in summer 2003 along Route 13 in conjunction with the Maryland State Highway Administration's Church Street Project. Three more sculptures were installed in 2005 along Carroll Street, followed by another in 2009. "Marlin" is the first of two sculptures planned for installation this year.
Each sculpture is a unique piece of art commissioned by an individual, institution or corporate sponsor. SU's Art Department selects a student to design the sculpture based on the sponsor's request. The artist, SU faculty, sponsor and Urban Salisbury's Sculpture Committee work together to finalize the design and select the site. Once the sculpture has been produced, the City of Salisbury Public Works Department helps erect it on the chosen site.
For more information on the collection, contact Urban Salisbury at 410-546-3205 or visit its Web site at www.urbansalisbury.com.