Friday, May 18, 2012
SU Senior Wins Internship in Africa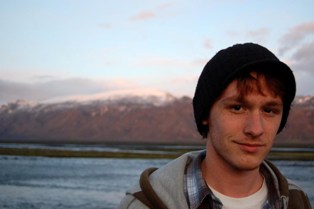 SALISBURY, MD---Salisbury University senior James Townsend is going back to Africa.

Earlier this semester, the Abingdon, MD, resident was one of 50 national finalists in Chegg for Good's "Africa is Calling" competition, held in connection with ONE, an advocacy organization that helps raise awareness of extreme poverty and preventable disease in Africa.

With 49 other finalists, the international studies and communication arts major posted a video on Facebook, explaining why he was interested in an internship that will allow him to witness those conditions firsthand as part of ONE's ongoing efforts. Townsend embarked on a massive campaign, asking SU students and others to vote for his submission. They voted him into the top 20, earning him an interview that helped a committee select him as one of eight students throughout the United States to be offered the internship.

"Knowing that James was competing against students from larger institutions just shows how Sea Gull Nation can pull together," said Dr. Dane Foust, SU vice president of student affairs.

According to Lindsey Meyl of Chegg, the interns will have their work cut out for them.

"The purpose of this internship is for students to become fully immersed in the issues faced by millions living on less than $1.25 a day in sub-Saharan Africa," she said. Sponsors hope the interns will "take this experience to raise awareness of the extreme poverty, disease and the limited access African students' have to a quality education."

Townsend originally experienced some of Africa's poverty-stricken areas when he spent a semester studying abroad in Dar es Salam, Tanzania, on a Benjamin A. Gilman Scholarship from the U.S. State Department in 2010. While hiking through rural villages, he contracted malaria, spending five days in the mountains before he could return to a more populated area for treatment.

"I ended up in a hospital, bedridden, and it was there that I saw the true plight of Africa: so many hard-working, positive, wonderful people stuck in the vicious cycle of poverty, unable to break free because of a lack of education or development or even access to clean drinking water."

Upon his return to SU, he dedicated himself to activism and awareness efforts. These included forming a student organization that has screened documentaries about conditions in Africa and invited a former child soldier to speak on campus. This semester, the group hosted a concert to benefit the construction of a clean water well for an African community in need. It has raised more than half of the $5,000 necessary for the project.

"James is a model for how study abroad can change a student's life forever," said Dr. Brian Stiegler, SU director of international education. "His studies in Africa bring honor to James and the entire SU student body."

Townsend said while he learned a great deal during his first visit to Africa, he was looking forward to experiencing even more this time: "I want to see Africa through new eyes. I want to see development, in action, in the field, whether it's through politics or education or even building new clean water wells."

The internship begins following his expected graduation from SU later this month.

For more information call 410-543-6030 or visit the SU Web site at www.salisbury.edu.