Friday, August 7, 2015
SU Professor Emeritus Explores Philosophy of Twelve Step Program in 'Sobering Wisdom'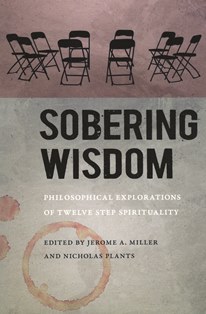 SALISBURY, MD---In 1935, two strangers struggling to stay sober met in Akron, OH. Their efforts to help one another make it through another day without drinking led to the establishment of Alcoholics Anonymous (AA), a life-changing movement, which some 80 years later has transformed millions of lives worldwide. AA also has provided a model for other Twelve Step programs, which encourage one to adopt a spiritual approach to addictions, such as drugs, food, sex and more.
Although academic disciplines including psychology, sociology and health sciences have studied the Twelve Step program of recovery, philosophers haven't yet paid much attention to it. That may be changing. In a recent collection of essays, Sobering Wisdom, published by the University of Virginia Press, editors Jerome Miller, professor emeritus at Salisbury University, and Nicholas Plants, philosophy professor at Prince George's Community College and an SU alumnus, offer a unique approach to exploring the program's spirituality from a philosophical point of view.
"Sobering Wisdom is the first book to examine the Twelve Step program through the lens of philosophers," said Frank Seeburger, professor emeritus at the University of Denver and author of Addiction and Responsibility.
"There are very few works that grapple with addiction and recovery from philosophical perspectives. There are even fewer when it comes to philosophy and the spirituality of the Twelve Steps. I believe this book will do a great deal to fill this void. I would recommend it to my friends who struggle with spirituality and recovery or who seek a deeper understanding," said Peg O'Connor of Gustavus Adolphus College, author of the blog "Philosophy Stirred, Not Shaken: Insights on Addiction and Philosophy" for Psychology Today.
The 17 essays in Sobering Wisdom, range from the deeply scholarly to intensely personal, but the editors worked diligently to make them accessible to those without advanced philosophical training. Drawing on thinkers from Aristotle to Foucault, the goal is a thoughtful exploration of the Twelve Steps, appealing not only to philosophers but to counselors, health professionals and, most importantly, those whose lives are being transformed by the Twelve Step experience.
The essays are grouped into five sections which examine the Steps and issues surrounding them, including such topics as the relationship between personal responsibility and the acknowledgment of one's powerlessness, the existence of a "higher power," authenticity and the need to connect with others if one is to be an authentic self, the role of virtue in recovery, and gratitude. SU alumnus Jason Danner, who received his Ph.D. in religious studies from the University of Virginia, writes movingly of his experience of selfhood in a Twelve Step context, illustrated through help he received in overcoming a phobia to needles. Essays by Miller and Plants are also included in the volume.
According to the editors, "the genius of Twelve Step spirituality lay in its ability to provide those living in this secularized culture a way to address their longing for meaning without having to adhere to a particular religious faith or defined theology … But while Twelve Step practice is distinguished from and different from philosophical thinking, it does require one to engage in rigorous, often painfully honest self-reflection."
For more information on Sobering Wisdom, visit www.salisbury.edu or call 410-543-6030. Miller may be reached at jamiller@salisbury.edu.