Friday, October 8, 2010
SU President Celebrates 'Decade of Distinction'
SALISBURY, MD---Salisbury University celebrated a decade of distinction with President Janet Dudley-Eshbach on Sunday, October 10, in the Commons.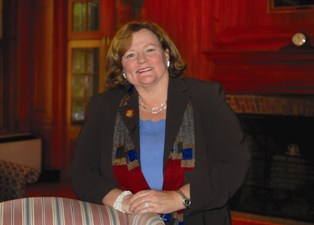 Photo Gallery

Dubbed 10/10/10, the afternoon showcased the growth and advancement that have transformed SU into A Maryland University of National Distinction.

During the reception, students, faculty and staff joined alumni and others in sharing stories about the President's first decade. Memorabilia from this era was also on display.

In brief and often humorous remarks, the President looked ahead to what the future may hold for SU. "My vision includes an ongoing commitment to excellence," she said, after thanking faculty, staff and students for everything they have taught her.

She also announced her creation of the Dudley-Eshbach Study Abroad Scholarship for SU students. The $10,000 commitment will be distributed over the next decade to Spanish or Latin American studies majors who are interested in immersion experiences in Spanish-speaking countries in Latin America.

A Latin American scholar who is fluent in Spanish, Dudley-Eshbach is a champion of international study and service. She has led the University in new directions through initiatives including promoting increased diversity among students, faculty and staff. She earned her Ph.D. from El Colegio de Mexico.

When Dudley-Eshbach came to SU in 2000, she was the first woman to hold the office of president in the University's 85-year history. Under her leadership, the campus has grown in size and reputation: Enrollment increased to some 8,400 students and the campus expanded some 20 percent.

SU also has consistently ranked in national publications including U.S. News & World Report, The Princeton Review and Kiplinger's Personal Finance. The Princeton Review said Salisbury "has recently made a transformation from regional gem to an internationally recognized institution," attracting students from across the U.S. and some 58 nations.

Dudley-Eshbach oversaw the opening of Henson Science Hall, the Teacher Education and Technology Center and SU's first parking garage. She also was instrumental in developing the new Franklin P. Perdue School of Business building and the Sea Gull Square residence–retail complex. Both open in fall 2011.

SU construction projects have had an economic impact of $300 million to date. This is separate from SU's total economic impact on the region of some $420 million annually.

To view highlights from the past 10 years, visit the SU Web site at http://www.salisbury.edu/president/decadeofdistinction/timeline.html.