SU Presents 2013 Diversity Awards
Thursday May 2, 2013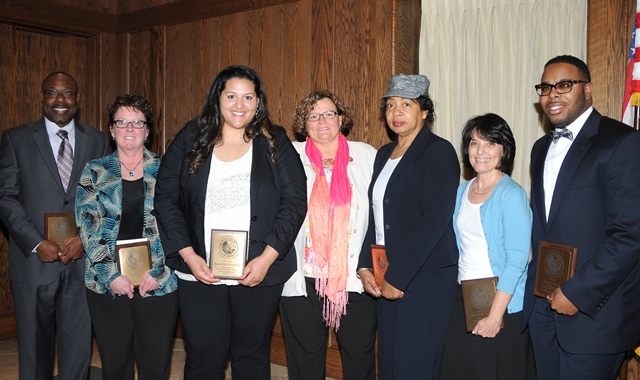 SALISBURY, MD---President Janet Dudley-Eshbach honored seven individuals from across campus for their support of a more diverse and inclusive environment, presenting them with the 2013 President's Diversity Awards. Recipients included, from left, Football Coach Sherman Wood; Dr. Kathleen Scott, Counseling Center director; undergraduate student Samantha Greenberg; Dudley-Eshbach; Drs. Clara Small and Linda Dwyer, History Department faculty; and undergraduate student Henry Hunt. Not pictured is award winner Iris Reynolds, housekeeper.
SALISBURY, MD---Salisbury University recently honored seven members of the campus community with its 2013 President's Diversity Awards.
They included undergraduate students Samantha Greenberg and Henry Hunt, non-exempt employee Iris Reynolds, professional staff member Sherman Wood, administrator Dr. Kathleen Scott and faculty Drs. Linda Dwyer and Clara Small.
Greenberg is a senior mass communications major from Parkton, MD. The president of the Multicultural Organization and Untouchables Dance, Inc., she has participated in Multicultural Visitation Weekend and served as a Multicultural Festival Planning Committee member, and Powerful Connections mentor coordinator, among other leadership roles on campus.
Hunt, a senior information systems major from Randallstown, MD, is director of the SU Gospel Choir and a Multicultural Student Services Office mentor. As the campus liaison for Target Corp., he has hosted diversity workshops and introduced students to careers at Target while promoting diversity in the workplace.
Reynolds has been a housekeeper at SU for more than two decades. Committed to working in Nanticoke Hall, home to many freshman students living away from their parents for the first time, she has been lauded for her sensitivity in understanding the issues students encounter during the transition. When health issues took her away from work recently, students repeatedly asked where she was and how she was doing, and were happy to have her back upon her return.
Wood, SU football coach, has dedicated countless personal hours to local community service projects involving at-risk and minority youth. He has included his student-athletes in these activities to help them understand the importance of giving back and sharing their success. As a result, they have become positive role models to many children in local elementary schools.
Scott, director of the SU Counseling Center, has been instrumental in providing support for LGBTQ students, faculty and staff. The center's Web site, for example, includes an LGBTQ virtual center with information on "coming out" and resources for allies and family members. She also has been key in promoting a campus environment free from harassment and intolerance that supports learning, knowledge, acceptance and civility.
Dwyer teaches cultural anthropology in the History Department and Chinese language in the Modern Languages and Intercultural Studies Department. Since 2009, she has been instrumental in developing a four-semester sequence in Chinese, and the number of SU students studying the language has increased exponentially under her leadership. She also played a key role in the first SU delegation to visit Anqing Normal University in central China, helping to pave the way for a new partnership between the two universities.
A professor of history, Small is retiring at the end of this semester after more than 33 years at SU. Known for her decades of public speaking and publications on African-American history, she serves on the Maryland Governor's Task Force on Slavery, among other prominent state and local boards and organizations. In 2011, she was honored with the African-American Tourism Council of Maryland's prestigious Harriet Ross Tubman Lifetime Achievement Award.
For more information call 410-543-6030 or visit the SU Web site at www.salisbury.edu.