Tuesday, May 3, 2016
SU Philosophy Symposium Speakers Meet with ECI Inmates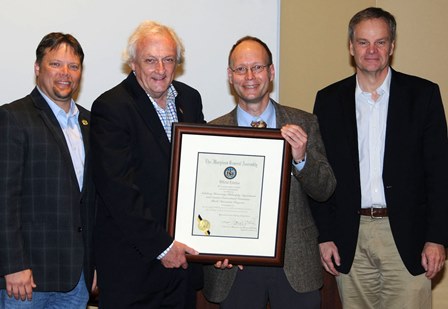 Pictured, from left: Maryland Delegate Carl Anderton; Senator Jim Mathias; Dr. Joerg Tuske, SU Philosophy Department chair; and Dr. Maarten Pereboom, Charles R. and Martha N. Fulton School of Liberal Arts dean.

SALISBURY, MD---The Salisbury University Philosophy Department recently strengthened its partnership with Eastern Correctional Institution (ECI), organizing a visit between inmates and guest speakers for the department's annual Philosophy Symposium.

In conjunction with the campus event, the department held a parallel session at the prison, sponsored in part by a Maryland Humanities Council Opportunity Grant. Drs. Lisa Guenther of Vanderbilt University and Rashad Shabazz of Arizona State University, who spoke at the SU symposium, also met with inmates.

The ECI event included an additional speaker, Dr. Jill Stauffer, author of Ethical Loneliness, on the Injustice of Not Being Heard, who was interviewed by a group of prisoners who chose to focus on her work for the semester.

The theme of this year's topic at the SU symposium was "Justice Inside-Out: On Incarceration and Inequality." Questions discussed included "What is the purpose of punishment?" "Does imprisonment serve justice and, if so, in what sense?" and "What does it mean for a punishment to fit the crime?" The symposium also delved into how the understanding and punishment can be shaped — and obscured — by assumptions about race, history and economic inequality.



Guenther, associate professor of philosophy, is the author of Solitary Confinement: Social Death and Its Afterlives. The book examines the death-in-life experience of solitary confinement in the U.S. from the early nineteenth century to today's supermax prisons.

Shabazz, associate professor at Arizona State's School of Social Transformation, specializes in human geography, Black cultural studies, gender studies and critical prison studies. His most recent book, Spatializing Blackness, examined how carceral power within the geographies of Black Chicagoans shaped urban planning, housing policy, policing practices, gang formation, incarceration rates, masculinity and health.

The department's relationship with ECI dates back nearly 15 years, when philosophy students began a book discussion program with inmates at the institution. Students continue to meet with inmates throughout each semester to discuss thinkers such as Socrates and Sartre, and themes such as love, freedom and justice. Inmates have said their sessions with the students are the only times they can have intelligent, positive conversations, and the experience has strengthened their love of reading.

During the SU symposium, Maryland Senator Jim Mathias and Delegate Carl Anderton presented citations from the Senate and House of Delegates, commending the program. The initiative also won this year's Light of Literacy Higher Education Luminary award from Friends of Wicomico Public Libraries.

For more information call 410-543-6030 or visit the SU website at www.salisbury.edu.