Friday, February 8, 2008
SU Participates in National RecycleMania Program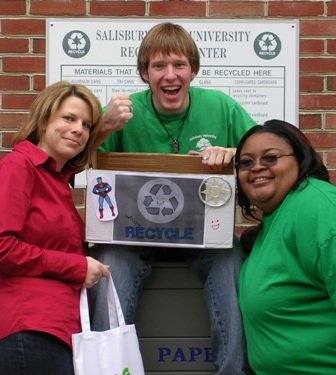 SALISBURY, MD---When it comes to preserving the environment, Salisbury University students are getting serious about a project with a silly name: RecycleMania.
Students in SU's residence halls are participating in the national contest this year, joining more than 400 colleges and universities throughout the United States in competing to see who can produce the most recycling.
According to national statistics compiled by RecycleMania, "half of what people throw away in college residence hall Dumpsters can be recycled," said Rebecca Rosing-Johnson, horticulture and grounds manager at SU. "We really need to keep these things out of the landfills."
SU will compete with other institutions throughout the nation for bragging rights. Locally, however, the stakes are higher. The University's nine residence halls are competing against one another for "recycling points" that will count toward their overall score at SU's annual student-run Spring Olympics. Results of recycling by weight are posted weekly for students to monitor their halls' progress.
There are other incentives, as well. For example, some halls are sponsoring "Decorate Your Recycle Bin" nights, encouraging students to get creative in personalizing their receptacles. Others are holding floor competitions, to see which floor within the residence hall can contribute the most. This is SU's first year competing in the program.
"We are extremely proud of our recycling program at SU, and we would like to see how we compare with other institutions across the nation," said Rosing-Johnson. "The students are really having fun with it."
For more information call 410-543-6030 or visit the SU Web site at www.salisbury.edu.