Tuesday, October 2, 2012
SU Junior Interns on Set of 'Ping Pong Summer'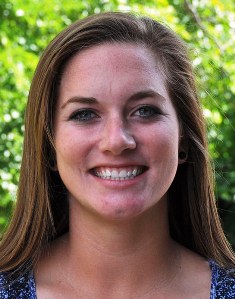 SALISBURY, MD---Salisbury University junior communication arts major Kristen Wolfe is about to have a really exciting summer … in the fall.

The Raleigh, NC, resident, formerly of New Windsor, NY, is an intern for the production office of the new independent film Ping Pong Summer, scheduled to begin filming this month in Ocean City, MD.

Starring Susan Sarandon and Amy Sedaris, the movie follows a ping pong-obsessed teenager during a life-changing family vacation at the popular beach resort town in the summer of 1985.

For Wolfe, 2012 could turn out to be a life-changing summer of its own. She was on summer break from SU when one of her professors, Dr. David Burns of the Communication Arts Department, e-mailed and recommended she apply for the internship.

Her interview was the same week she returned to Salisbury for the fall semester. She was hired on the spot.

Once filming starts, she expects to be involved in delivering script changes — and in some cases, the cast and crew itself — to the set. For now, however, she is performing clerical duties for the movie's production coordinator, Jamie Millhoff, and accountant, Lora Criner. But there have been some perks. On her first day, she had the chance to read the script from cover to cover.

On day two, she met the writer and director, Michael Tully, whose other credits include independent films Cocaine Angel and Septien, and the TV movie Superego. She hopes to continue networking with others during her internship in hopes of pursuing a career in film and television production after earning her degree from SU.

"Kristen one of our stalwart student leaders," said Burns. "She holds leadership positions in two communication industry-related clubs – Salisbury University Television and the National Broadcasting Society-Alpha Epsilon Rho – so she was the perfect candidate for such a hands-on internship."

Though her contributions are behind the scenes, Wolfe has enjoyed being immersed in the process.

"It's a really cool experience, and it's great to see how everyone works together in the production office," she said.

Wolfe also has enjoyed seeing what movie-making is like from the beginning. Having already learned many post-production techniques in the classroom, she is excited to learn about the pre-production process as it happens … and to see the end result. Ping Pong Summer is tentatively scheduled for release in 2013.

For more information call 410-543-6030 or visit the SU Web site at www.salisbury.edu.