Friday, March 15, 2013
SU Hosts Read Green Literature Festival April 4-6
SALISBURY, MD---According to a recent Huffington Post books blog: "We should all just stop reading adult literature and go back to the books that nourished our souls as kids what have grown up books ever taught us anyway? ... Children's literature is much more inspiring."

Renowned authors and illustrators visit Salisbury University to share their craft, and inspire children, students and adults alike, during the three-day Read Green: Children's and Young Adult Literature Festival, Thursday-Saturday, April 4-6.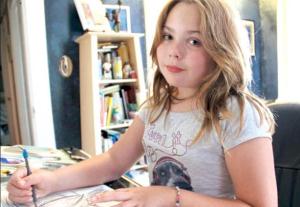 Events include a keynote presentation by Olivia Bouler, the now 14-year-old author of Olivia's Birds: Saving the Gulf; a celebration of The Nature Generation's Green Earth Book Awards; and a new day-long children and environmental literacies conference. National Book Award winner Philip Hoose and finalist Eliot Schrefer are among the 12 authors and illustrators in attendance.
"From environmental literature and picturebooks, to steampunk and fantasy, science nonfiction and documentary film, this year's festival features the creators of an amazing array of literature and media that will appeal to anyone interested in literature or stewardship," said Dr. Ernie Bond, chair of SU's teacher education department.
To view the full schedule of events, visit www.salisbury.edu/readgreen.
Highlights include the Read Green Festival Opening Ceremony 6 p.m. Thursday in Holloway Hall Auditorium, and the Green Earth Book Award Ceremony and Art Exhibit Reception 5 p.m. Friday at the Ward Museum of Wildfowl Art. Admission to both events is free and the public is invited.
On Thursday, Bouler's keynote address is preceded by a panel discussion with Green Earth Book Award winners. Awards for local young authors follow, along with a reception and book signing in the Social Room.

On Friday, The Nature Generation, a Virginia-based environmental non-profit, officially presents the 2013 Green Earth Book Awards. Recipients attending include Gill Lewis, author of One White Dolphin; Schrefer, author of Endangered; Loree Griffin Burns, author of Citizen Scientists: Be a Part of Scientific Discovery from Your Own Backyard; and Hoose, author of Moonbird: A Year on the Wind with the Great Survivor B95.
For a complete list of categories and honorees, or more details about the award, the nation's first prize to honor environmental stewardship in literature for children and young adults, visit http://www.natgen.org/.
Attendees also may view the exhibit, "Art, Children's Literature and the Environment: Olivia's Birds, Moon birds and Citizen Scientists," which features art and photography from Bouler and Green Earth Book Award winners. The display continues through Sunday, June 2.
The Saturday conference is open to teachers, librarians, students and others who work with children or have an interest in writing or environmental stewardship. Cost, including lunch, is $30; $12 for SU ID holders. Seating is limited. To register, visit: https://www2.salisbury.edu/readgreen/.
Other participants in conference and festival activities, including visits to areas schools, are Lulu Delacre, whose works celebrate Latino heritage; Laurie Lawlor, author of the Addie and American Sisters series; Maryland author Barbara Lockhart; Icelandic writer Andri Snær Magnason; Melissa Stewart, a children's science writer; and Hallowmere series author Tiffany Trent.
"There's a lot we could learn from children," the Huffington Post writer states, "but ... We can learn even more from children's authors because they're the ones who teach kids to wise up and have ethics and all that jazz."
For more information call 410-543-6030.