Tuesday, April 3, 2007
SU Hosts Jigu! Thunder Drums of China April 30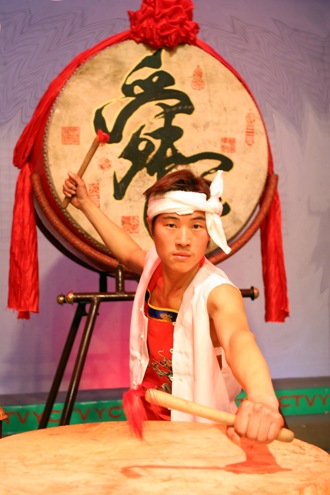 SALISBURY, MD---Known for their intense drumming and heart-pounding beats, the world-renown musical troupe Jigu! Thunder Drums of China, has been thrilling audiences for nearly two decades.
The group performs at Salisbury University 8 p.m. Monday, April 30, in Holloway Hall Auditorium. The show is part of the "East Meets West" spring cultural events series.
With 28 drummers, percussionists and musicians from the Shanxi Province in China, the company shares the fine art of drumming and performance which are deeply rooted in their culture and Chinese folk traditions. The multi-sensory act involves an intricate blend of traditional and modern musical elements, with high-tech lighting and special effects.
In Chinese, Jigu means to beat or touch the drum, and the group has been widely recognized for their skill in this area. They are four-time gold medal winners at the National Star Awards competition in China, recognized for excellence in drumming and performance. They were also recognized at the 1992 Chinese Folk Competitions for Percussion and Drums Performers.
Founded in 1988, Jigu! Thunder Drums of China has performed around the world in countries including Denmark, Morocco, Singapore, Malaysia, Korea, Hong Kong and Taiwan. They have been featured in festivals and arts events such as the Hong Kong Arts Festival, the Chinese Central Television Spring Festival, the Macao International Music Festival, the Shanghai International Arts Festival and the internationally renowned Arhus Cultural Festival in Denmark. They were also featured performers at the 2004 NBA's International Games.
Sponsored by the Office of Cultural Affairs, the Multicultural Festival Committee and the Student Appropriations Board, this performance is free and the public is invited, but tickets are required. Limited to two per person, they are available on a first come, first served basis at the Guerrieri University Center Information Desk between 8 a.m.-10 p.m. Monday – Saturday and noon-10 p.m. Sunday.
For more information call 410-219-2872 or visit the SU Web site at www.salisbury.edu.