Tuesday, February 2, 2010
SU Geography Students Help Earthquake Recovery Efforts
SALISBURY, MD---Despite being more than 1,400 miles from Haiti, Salisbury University students are donating time, energy and technical skills to aid earthquake recovery efforts.
This week, some 36 geography majors are helping the Earthquake Engineering Research Institute (EERI) on a photo interpretation project to examine devastation in the Caribbean nation. Based in Oakland, CA, EERI is the nation's premier professional organization dedicated to earthquake hazard assessment and reduction worldwide.
The SU students join scientists and engineers from some 19 countries who have mobilized to help with Operation GEO-CAN (Global Earth Observation–Catastrophe Assessment Network).
Using a Google Earth application tool, the student volunteers are comparing and evaluating detailed, high-resolution aerial images of Haiti from before and after the earthquake to identify damaged buildings. The project will aid ground crews as they try to conduct damage assessments, prioritize rebuilding and help victims' families.
"This is an opportunity for SU students to use the skills they obtained in their geography classes to aid in a humanitarian effort," said Dr. Arthur Lembo of SU's geography and geosciences department, who facilitated the project.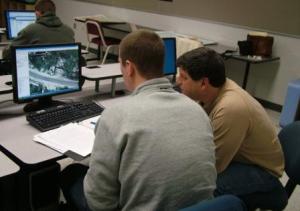 Lembo has conducted earthquake research with EERI in the past, and co-presented two papers with its staff at an international conference commemorating the 100th Anniversary of the 1906 San Francisco Earthquake.
"As the U.S. tries to help the people of Haiti, Dr. Lembo and the EERI have found a way for our students to contribute, even though we're thousands of miles from both Oakland and Port-au-Prince," said Dr. Michael Scott of the geography and geosciences department, who also directs the Eastern Shore Regional GIS Cooperative.
"I am so proud of SU's geography program and its students," said Dr. Karen Olmstead, dean of SU's Henson School of Science and Technology. "This project is a tremendous opportunity for SU students and faculty to assist Haiti by providing much needed technological and analytical support."
For more information, call 410-543-6030 or visit the SU Web site at www.salisbury.edu.