Friday, June 8, 2007
SU Foundation Board of Directors Honors Three Recent Retirees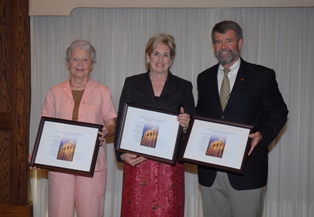 From left, Billye Sarbanes, Diane Savage and Henry Hanna III accept plaques for their years of dedicated service to the Salisbury University Foundation, Inc.
SALISBURY, MD---The Salisbury University Foundation, Inc. recently honored three members upon their retirement from the board of directors: Diane Savage of Berlin, MD; and Henry H. Hanna III and Billye Parks Sarbanes, both of Salisbury.
"Diane, Henry and Billye have a combined 48 years of service on the board and have raised the bar for those who will follow," said Dr. Rosemary Thomas, executive director of the SU Foundation and vice president of advancement at SU. "They have served the Foundation well, and their efforts have helped make Salisbury a Maryland university of national distinction."
A member of the SU Foundation board since 1985, Savage was formerly secretary of the Foundation, co-chaired the grants committee, and served on the public radio, nominations and numerous ad-hoc committees. She also chaired two Foundation galas. At present she holds the longest tenured seat on the Foundation board.
With a strong background in history, she is a founding member of the Edward H. Nabb Research Center for Delmarva History and Culture board of directors at SU, upon which she currently serves. She is also active with the central committee of the Maryland House and Garden Pilgrimage.
Savage is historian for St. Paul's by-the-Sea Episcopal Church and is involved in the restoration of St. Martin's Church. She is also a past board member of Preservation Maryland, as well as past board member and president of the Calvin B. Taylor Museum. She is a former member of the parents councils at SU and Washington College. Following her retirement from the SU Foundation board, she will devote more time to family activities and operating her antiques business.
A member of the board since 1987, Hanna is currently chairing the University's $30 million Capital Campaign 2012. A past chair of the Foundation board, he also served as the SU Foundation's representative for the Community Foundation of the Eastern Shore's Perdue-Kresge Challenge, making possible a $1.6 million endowment account with the Community Foundation of the Eastern Shore. He continues to serve the SU Foundation as an ex-officio member. A developer with more than 35 years of brokerage experience, Hanna also is chair-elect of the SU Real Estate Foundation, for which he volunteers regularly and provides expertise and advice on real estate matters.
He is a senior advisor for Sperry Van Ness-Miller Commercial Real Estate. Hanna holds the prestigious Certified Commercial Investment Member (CCIM) designation and is also a member of the International Council of Shopping Centers (ICSC). He is involved in many aspects of the community at large, serving as past president of Salisbury-Wicomico Economic Development, Inc. (SWED) and as a current board member of Mercantile Peninsula Bank.
A Foundation board member since 2001, Sarbanes is an alumna ('62) and long time friend of SU. She was the Foundation's secretary and served on several committees, including the Foundation's investment committee.
Sarbanes and her husband, Tony, are active members of the SU community. She is a past president of the Alumni Association board of directors and chaired the Office of Alumni Relations and Annual Giving Office's special gifts campaign, which raised more than $100,000.
A former teacher and entrepreneur, she is a past member of the Salisbury Area Chamber of Commerce and the Greater Salisbury Committee, and a current member of the Rotary Club. She is chair of the Women Supporting Women board of directors and a member of the Maryland Advisory Board of Shore Bank. She is also a member of the finance committee and altar guild at Trinity United Methodist Church. Sarbanes has been honored by the Wicomico County Commission for Women for her activities in the community and was awarded the SU Alumni Appreciation Award in 1997.
"The retirement of such active and special volunteers is a loss to our organization," said Kim Nechay, assistant director of the SU Foundation and director of development for SU. "We thank them all for their efforts and know that they will remain friends of the University and Foundation."
Established in 1973, the Salisbury University Foundation, Inc. was created to accumulate funds, by gift and investment, and to foster, encourage and enrich the activities, educational programs, athletics and scholarships of SU. It is the intent of the Foundation to promote, sponsor and carry out educational, scientific and charitable objectives for the benefit of SU and its students.
For more information call 410-543-6030 or visit the SU Web site at www.salisbury.edu.