Thursday, February 12, 2009
SU Forms First European Alumni Chapter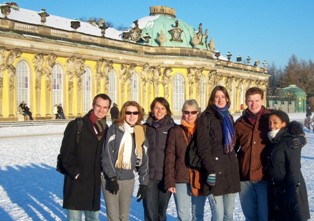 Pictured, from left, at Potsdam's Sanssouci Castle are SU alumni Vincent Pichard ('07), Agata Liszkowska ('91), Pauline Duburquoy ('07), Elodie Weytens ('07), Veit Voges ('06), Hermela Alemayehu ('07).

SALISBURY, MD---Salisbury University has a new alumni association chapter in Europe—its first on that continent.

Alumni living and working throughout Europe met in Berlin, Germany, for a two-day alumni January 10-11. Nearly 20 alumni enjoyed a Friday night reception and a Saturday morning brunch at the famous 12 Apostles restaurant in downtown Berlin. Afterward, a number of alumni toured the city together.

The event was the brainchild of Dr. Richard Hoffman, professor of international business and interim dean of the Perdue School, and Dr. Robert Dombrowski, professor of accounting. Both faculty have been leading winter term study abroad trips to France and Germany for more than a decade and have been instrumental in attracting French and German students to study at SU.

Hoffman and Dombrowski were in Berlin with 32 current SU students for a two-week study abroad program featuring coursework in international business and accounting. The faculty leaders wanted to bring together European alumni from the Perdue School's M.B.A. program.

The Perdue faculty members reached out to the SU Center for International Education and the Office of Alumni Affairs for help planning the weekend. Agata Liszkowska, associate director of the Center for International Education, long-time international student advisor and SU international alumna herself, put out the call on Facebook to other SU alumni throughout Europe.

She traveled to Berlin to join the Perdue School group for the reunion and delivered a letter to each alumnus from SU President Janet Dudley-Eshbach, as well as alumni gifts courtesy of Jason Curtin, director of alumni relations and annual giving.

The Berlin alumni gathering was such a hit that the alumni decided to form SU's first European alumni association chapter to help SU graduates throughout Europe stay in touch with each other and with their American Alma Mater. Vincent Pichard of Rennes, France (M.B.A., '07) and Timo Troge of Berlin, Germany, were elected co-presidents of the new chapter.

Its members are already planning the next reunion, scheduled in January 2010 in the city of Grenoble, nestled in the Alps in southern France.

For more information on the new chapter, visit "Salisbury University European Alumni Association Chapter" on Facebook or the SU Center for International Education Web site at: http://www.salisbury.edu/INTLED/ISS/, or e-mail Liszkowska at axliszkowska@salisbury.edu.