Tuesday, April 4, 2017
SU Film Students Skype with ILM Artist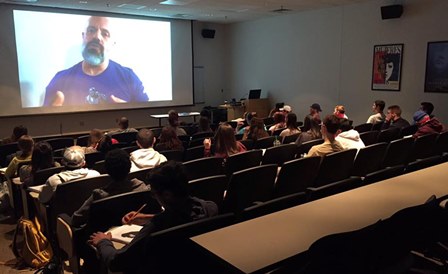 SALISBURY, MD---Students in Dr. Andrew Scahill's Literature and Film class at Salisbury University recently participated in a Skype Q&A with Sam Stewart, senior digital paint artist at Industrial Light and Magic (ILM).

A division of Lucasfilm, ILM was responsible for a revolution in special effects with the release of Star Wars in 1977 and continues to be a driving force in the world of visual effects.

For about an hour, Stewart answered the students' questions about some of his latest projects, including Star Wars, Harry Potter, The Avengers, Transformers, Star Trek and Pirates of the Caribbean. He also walked them through the creation of the famous bear attack scene in 2015's The Revenant, describing how it was digitally rendered through contemporary motion-capture technology.



For more information call 410-543-6030 or visit the SU website at www.salisbury.edu.