Tuesday, October 23, 2012
SU Faculty Discuss 'Presidential Elections and Conflict' Thursday, October 25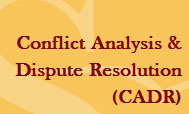 SALISBURY, MD---What causes socio-political tensions and conflicts during presidential elections? What are the implications, and how may they be addressed constructively?

Salisbury University faculty answer these questions and more during the panel discussion "Presidential Elections and Conflict" 2 p.m. Thursday, October 25, in the Worcester Room of the Commons.

Panelists include Drs. Leonard Arvi of the Economics and Finance Department; Gregory Cashman and Adam Hoffman of the Political Science Department; Marion Duval of the Modern Languages and Intercultural Studies Department; and Itir Gunes of the Philosophy Department. Dr. Jacques Koko of the Conflict Analysis and Dispute Resolution (CADR) Department moderates.

Sponsored by the CADR Department, admission is free and the public is invited. Light refreshments will be served.

For more information call 410-677-6740 or visit the SU Web site at www.salisbury.edu.