SU European Alumni Chapter Reunites
Tuesday February 9, 2010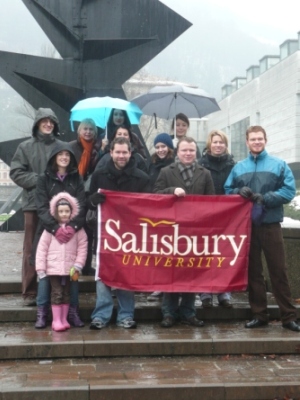 SALISBURY, MD---Salisbury University has more than 35,000 alumni who are scattered across the nation—and around the globe. Some graduates recently reconnected with their Alma Mater in Grenoble, France.
On January 16-17, the European Chapter of SU's Alumni Association celebrated its second annual international reunion. Some 25 SU graduates from four European countries attended.
Also involved were faculty from the Perdue School of Business, who were leading a winter study abroad program at the Grenoble School of Management; Jason Curtin, director of alumni relations and annual giving; and Agata Liszkowska, associate director of the Center for International Education.
Throughout the weekend, participants re-acquainted with one another, networked with new alumni, and reminisced about their days at SU during an afternoon reception and a group dinner. Despite some rain, the group also visited the famous Musée de Grenoble, followed by a hike to the historic relic that is the Bastille prison fortress.
Several of SU's international alumni initiated the creation of the European chapter after last year's reunion in Berlin, Germany. Co-Presidents Vincent Pichard and Timo Troge organized the festivities along with Pauline Duburqoy. The mission of the chapter is to help international alumni stay in touch with each other, with their Alma Mater and with graduates from the United States who now live abroad.
The European Alumni Chapter has already begun planning its January 2011 reunion in London, England. For more information, contact Agata Liszkowska at 410-334-3495 or visit SU's Center for International Education Web site at www.salisbury.edu/intled.
SHARE