Tuesday, October 17, 2017
SU Education Students Present Research at European Conference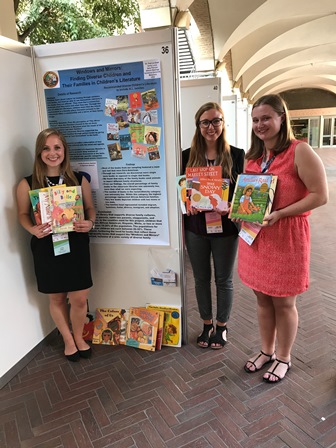 SALISBURY, MD---How diverse are the families represented in children's literature?
That was the question posed by three Salisbury University students who recently presented their study of the topic at the European Early Childhood Education Research Association's annual conference in Bologna, Italy.
Recent early childhood education graduate Amy Pierson of Bowie, MD, joined senior elementary education major Emily Loux of Ijamsville, MD, and senior early childhood education major Allison Stallings of Sykesville, MD, in researching the books in area classroom libraries.
They then applied the depictions of families in those books to the "Windows and Mirrors" curriculum established by Emily Style, founding co-director of the National Seeking Educational Equality and Diversity (SEED) Project. That curriculum states that children learn about others by looking through "windows" into books while also being able to see the books they are offered as "mirrors" of themselves.
After analyzing hundreds of books, the SU students determined a list of about 30 they recommended for all elementary school libraries based on their depictions of diverse families. These included traditional and non-traditional families, single-parent homes, multi-family homes and those with multicultural backgrounds.
Dr. Patricia Dean of SU's Teacher Education Department proposed the study to the students, who quickly adopted it as their own.
"Dr. Dean has been such a great influence, and she is so passionate about teaching and social justice," said Stallings.
Their presentation was a hit, not only because many found the topic captivating, but because they were among the only presenters who brought recommended books for the audience to peruse, Stallings said. The conference also allowed them to meet like-minded teachers and education students from around the globe.
"I feel like all the educators in the world are on the same page when it comes to social justice," said Stallings. "Everyone is so receptive to everyone else's ideas."
Loux added that the title of their poster, "Windows and Mirrors: Finding Diverse Children and Their Families in Children's Literature," caught people's attention and led to a number of good conversations on the topic.
The SU students also visited classrooms in Italy's Reggio-Emelia district, which believes in the philosophy that children chart their own knowledge. This has led to less structured classes with more basis in inquiry, Stallings said. They also got to see art classes specializing in non-traditional materials such as light and movement.
"It's so much different than in America," Stallings said.
"The whole atmosphere was about discovery," Loux added. She hopes to incorporate that idea into her own future classroom, giving students hands-on objects related to sometimes abstract concepts, for example, and letting their discovery of that object enhance their learning.
All three said the project and presentation gave them greater insight into the classroom and the materials young students need to succeed. Pierson currently is teaching kindergarten at Northview Elementary School in Bowie. Loux and Stallings hope to begin their teaching careers after graduating next spring.
Before then, however, they will have additional opportunities to share their research. Their presentation has been accepted for presentation at the International Literacy Association's Literacy and Social Responsibility Special Interest Group's annual meeting in Austin, TX, in July, and has been submitted for consideration at the State of Maryland International Reading Association Council's 46th annual conference in Baltimore in April. They also are considering writing a paper about their findings for submission to education journals.
For more information call 410-543-6030 or visit the SU website at www.salisbury.edu.