Monday, October 9, 2017
SU Dance Company Presents Annual Fall Showcase November 2-5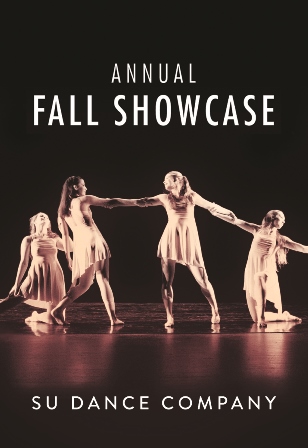 SALISBURY, MD---Student, faculty and local artists bring their work to the stage during Salisbury University Dance Company's 28th annual Fall Student Showcase.

The concert, directed by Mary Avara, is Thursday-Sunday, November 2-5, in Holloway Hall Auditorium. Curtain is 8 p.m., 2 p.m. Sunday.

The showcase features a guest performance by Drew Yowell of Salisbury. Yowell recently worked with the company as a master instructor. He earned his degree in dance performance from East Carolina University.

Contemporary dance is represented in student works. Marie Hils' piece, "Springful," is set to music of the same name by Adult Jazz. The complexities of life are explored in Arielle Weinstein's dance, "Waves," performed to music by Dean Lewis.

"Landfill" is the title of Amanda Ernau's interpretation of relationships, while Willow Saunders examines life's struggles in "Falling Together." Ernau's dance is set to music by Daughter, while Saunders' piece features the music of Muddy Waters.

Corinne Dovell describes her jazz piece "Settle" as "serious and sassy." The music of Kimbra helps her set the tone of the work. "Behind the Clock" is Emily Lane's contribution to the showcase. She chose music by Woodkid as her inspiration.

The show opens with a musical theater ensemble work choreographed by faculty member Jessica Hindman. Guest choreographer Staci Alexander returns to stage a jazz finale. She has worked with the company in the past few years as guest teacher, performer and choreographer.

Admission is $12; $9 for seniors 60-plus, teens and SU alumni; $5 for non-SU students with ID; $3 for SU Students with Gull Card. Children under 12 are admitted free.

Reservations are not required. Tickets may be purchased online and are available at the door 30 minutes before curtain.

For more information call 410-543-6228 or visit www.salisbury/theatreanddance.