Friday, November 1, 2013
SU Dance Company Fall Showcase Scheduled November 7-10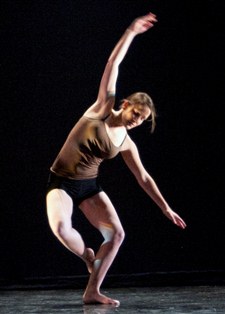 SALISBURY, MD---The Salisbury University Dance Company, directed by Mary Norton, presents its 24th annual Fall Showcase Thursday-Sunday, November 7–10, in Holloway Hall Auditorium.

Curtain is 8 p.m., 2 p.m. Sunday.

The program features the work of seven company members and includes a performance by guest artist Allen Chunhui Xing. Guest choreographer Staci Alexander-Snyder presents an ensemble work to Queen's "Bohemian Rhapsody" to conclude the concert.

Snyder, a Salisbury native, studied dance locally and at 17 joined the cast of Up With People. She toured four times nationally and internationally with Young Americans. In 2006, she joined the Human Project Urban Dance Theater in Tucson, AZ.

Xing danced professionally in his native China while pursuing his undergraduate degree in dance performance at the Shanxi Professional Institute of Art at Taiyuan University. He is working toward a master's degree in education leadership at SU.

His professional dance credits include performances at the Kennedy Center for the Performing Arts in Washington, D.C., the Beijing Olympics and the Shanghai Expo. He is a member of the Hoajin Dance Company.

Three company members present choreography for the third consecutive year. Mumford & Sons provides the musical inspiration for senior Chelsea Chmel's "Hopeless Wanderer." As the title implies, this contemporary dance expresses the journey of self-exploration through life.

Senior Erin Nooney's contemporary/modern piece "The Last Hour" carries a similar theme, with a focus on the end of life. Her work is set to music by Intro and The XX. In the same vein, Morgan Pearson's "Viva La Variety," set to music by Norwegian Recycling, uses various dance techniques to embody the emotions involved in the maturation process.

Senior members Brittany Crispino and Emily Frank present original choreography for the first time in this concert. Crispino's "Fix You," set to music by Boyce Avenue, is a contemplative contemporary dance, while Frank uses original music from the Broadway musical Newsies to present a jazz number reminiscent of Broadway-style dance.

Living on the edge is the message of junior member Daniella Celia's piece "The Edge." Celia sets the dance to an acoustic version of the Lady Gaga song of the same name. Tap dance rounds out the program in "Breath of Life," choreographed by junior Rachel Markow and set to music by Florence and the Machine.

Admission is $15, $12 for seniors, teens and SU alumni. Children under 12 are admitted free. SU ID holders are admitted free to Thursday's performance only.

Tickets are available at the door 30 minutes prior to curtain. Reservations are not required. For more information or to purchase tickets in advance call 410-543-6228 or visit the SU Theatre and Dance Department website at www.salisbury.edu/theatreanddance.