Friday, January 4, 2013
SU Children's Theatre Workshop Presents 'Just So Stories' January 19-20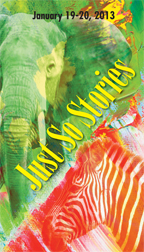 SALISBURY, MD---How did the elephant get its trunk? How did the leopard get its spots?

Salisbury University's Children's Theatre Workshop provides whimsical answers to these and other questions during its production of Rudyard Kipling's Just So Stories Saturday-Sunday, January 19-20, in the Black Box Theatre of Fulton Hall. Curtain is 2 p.m. and 4 p.m.

Directed by Tom Anderson of the Theatre and Dance Department, the performance harkens to the dawn of the world, when, according to Kipling, animals could talk and think like people. Through the use of puppets in the style of Broadway's The Lion King, human-scale animals tell their own tales. SU students enrolled in the workshop are engrossed in every aspect of the production, from adapting the stories to designing costumes to creating sets.

Sponsored by SU's Bobbi Biron Theatre Program, admission is $5. One adult is admitted free per paying child. SU ID holders also receive one ticket free. For tickets visit www.salisbury.edu/theatreanddance or the SU Box Office, Fulton Hall Room 100.

For more information call 410-548-5588 or visit the SU Web site at www.salisbury.edu.