Friday, September 2, 2016
SU Celebrates New Sea Gull Stadium Turf, Improvements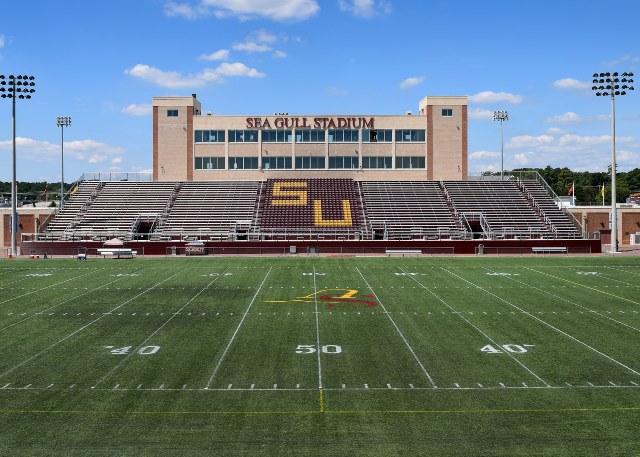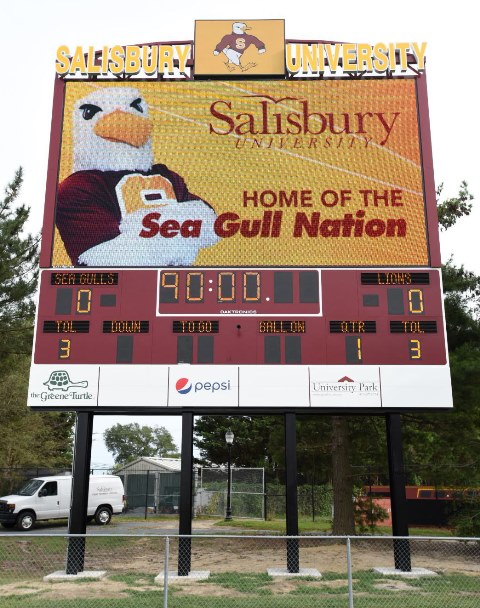 SALISBURY, MD---When Salisbury University football players take to the stadium field this fall, they will be walking on 35,500 pounds of new turf fiber, 408,000 pounds of sand and 360,000 pounds of rubber.

On Friday, September 2, SU President Janet Dudley-Eshbach, along with athletics leadership, coaches and students, cut the ribbon on new stadium turf before the first home game of the season.

"I am extremely proud of our athletics program, especially those 19 NCAA national championships of our teams!" said Dudley-Eshbach. "I am pleased that we are finally able to give our athletes and coaches the facilities they deserve. We opened the new stadium this past spring. With the new turf and video scoreboard, we're completing the job."

Little has been wasted. Almost all of the old turf was recycled or repurposed. A part was even turned into a dog run, said Matthew Groves, project manager.

The new surface, covering over 100,000 square feet, is manufactured by Shaw Sports Turf of Calhoun, GA, which has done installations at Johns Hopkins and Georgetown universities, and McDaniel College, among others.

This wasn't the only improvement unveiled. Nearly 500 fixed stadium seats were added to the bleachers, providing a vibrant maroon and gold signature. (The aluminum bleacher seats that we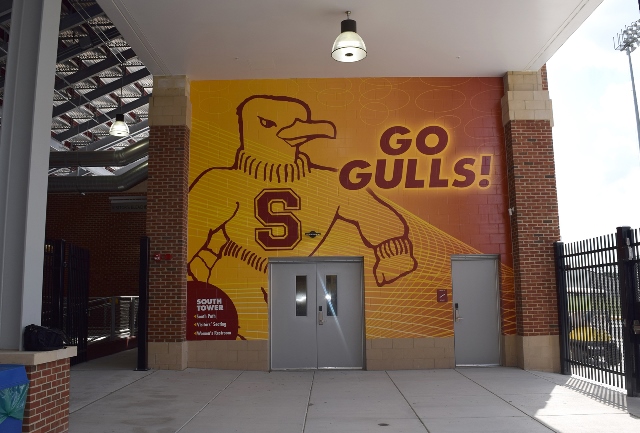 re removed will be repurposed into stands for SU's softball field, Groves said.) In addition, Sammy the Sea Gull murals now brighten stadium interiors.

The President thanked Delegate Adrienne Jones and the House Capital Budget Subcommittee in addition to Delegate Carl Anderton who pushed for the governor and lieutenant governor's support, Deputy Chief of Staff and SU alumna Jeannie Haddaway-Riccio, and SU alumni currently serving in the General Assembly.

Another stadium enhancement is a new video sign and scoreboard, paid for by University funds. With 504 square feet of active display, 302,235 LEDs will now illuminate the board. It is manufactured by Daktronics of Brookings, SD, which locally has installations at the Naval Academy, Towson and Johns Hopkins universities, and the University of Maryland, College Park.

"Sea Gull Stadium is one of the best facilities in all of Division III athletics, and the completion of the final improvements, including new turf and signboard, distinguish it even further," said Dr. Gerry DiBartolo, SU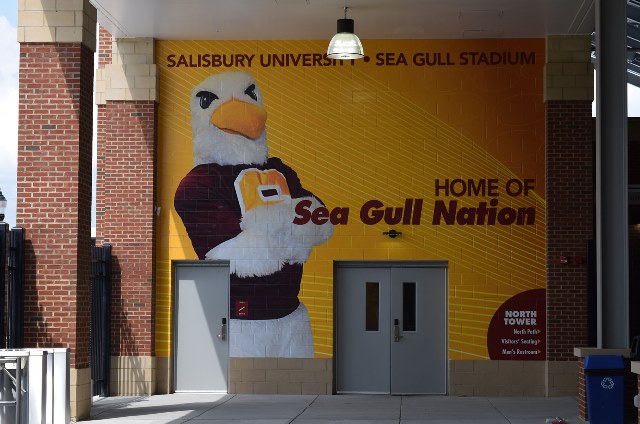 interim athletics director. "I am very grateful to President Dudley-Eshbach for her dedication to our athletics family, particularly the student-athletes. She has been champion and cheerleader, and we are equally proud of her."

"The athletics complex is becoming more cohesive and park-like with each passing season," added Dudley-Eshbach. "This is something in which our campus and the greater community can take pride and enjoy."

For more information, visit the SU website at www.salisbury.edu or call 410-543-6030.