SU Celebrates African American History Month
Wednesday January 6, 2016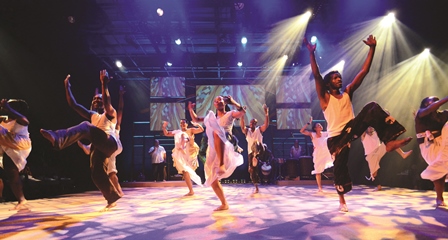 SALISBURY, MD---From the Executive Mansion in Philadelphia, to Boston's Back Bay, to Louisiana's Creole country and beyond, Salisbury University's 2016 African American History Month celebration in February showcases "Hallowed Grounds: Sites of African American Memory."
April Logan, SU assistant professor of English and series chair, keynotes the celebration with the talk "(Ad)Dressing History: Pauline Elizabeth Hopkins" at 7 p.m. Thursday, February 18, in the Wicomico Room of the Guerrieri University Center.
The president of the Pauline Elizabeth Hopkins Society, Logan discusses the important contributions Hopkins, noted author and soprano singer, made to African American politics and history. Among other accomplishments, the Bostonian was the editor of Colored American Magazine, possibly the first U.S. monthly publication to target African American culture.
Other events begin Friday, February 5, with SU Dining Services' annual African American History Dinner, featuring the Bernard Sweetney Jazz Quartet from 5-7 p.m. Sweetney, a premier jazz drummer since the 1960s, has performed with Roberta Flack, Shirley Horn and others. Cost is $12.48, $7.57 for children age 5 and under.
NAACP Image Award for Outstanding Poetry winner Frank X. Walker and emerging poet Shauna Morgan read from their works at 7 p.m. Tuesday, February 9, in the Wicomico Room.
Walker, former Kentucky poet laureate, is the originator of the word "Affrilachia" and founding editor of Pluck! The Journal of Affrilachian Arts and Culture. Morgan, a native of Jamaica, is the author of two chapbooks, Passages and This Black Love, and has seen her work published in multiple journals and anthologies.
Nathan Williams and the Zydeco Cha-Chas bring their creative musical stylings from the Louisiana bayous back to Holloway Hall Auditorium 7 p.m. Thursday, February 11. Accordionist Williams has won lifetime achievement honors from the Zydeco Music Awards and the ZBT (Zydeco, Blues and Trailride) Awards.
Five days later, the world's first professional company dedicated to the tradition of stepping occupies the same stage as Step Afrika! comes to Holloway Hall at 7 p.m. Tuesday, February 16. In the past two decades, the group has grown to become one of the top 10 African American dance companies in the U.S. and Washington, D.C.'s largest African American arts organization.
Erica Armstrong Dunbar, professor of Black American studies and history at the University Delaware, continues the series with the presentation "Never Caught: The President's Runaway Slave Woman" 7 p.m. Wednesday, February 24, in Perdue Hall's Bennett Family Auditorium.
Discussing her second book, to be published this spring, Dunbar traces the life of Ona Judge, a slave of President George Washington, who escaped from his house in Philadelphia to live a free life in New Hampshire. After bargaining for her return to slavery, Washington refused to capture Judge, using the rational of his then-recently signed Fugitive Slave Act of 1793.
SU's African American History Month Celebration concludes with the University's annual Multicultural Student Summit from 9 a.m.-3 p.m. Saturday, March 5, in the Wicomico Room. Admission is $25 for non-SU students.
This year's events are sponsored by the SU African American History Month Committee, Multicultural Student Services Office, Cultural Affairs Office, Fulton Public Humanities Initiative, English and History departments, and University Dining Services.
Admission is free unless otherwise noted. For more information call 410-548-4503 or visit the SU website at www.salisbury.edu.