Thursday, August 31, 2017
SU Art Galleries Presents 'Current Traditions: Contemporary Japanese Wood Sculpture' Exhibit September 5-October 14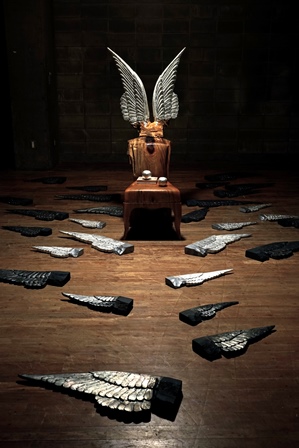 SALISBURY, MD---Wood carving has been a Japanese tradition since the sixth century.
Salisbury University showcases 20 artists who are carrying on that heritage today during the exhibit "Current Traditions: Contemporary Japanese Wood Sculpture" September 5-October 14 in the University Gallery of Fulton Hall.
Curated by Bill Wolff of SU's Art Department, the exhibit coincides with a residency by visiting artists Chise Iura and Natsuko Kubo, whose works are included, from October 2-13.
All artists featured in the exhibit are affiliated with the Tokyo University of the Arts, the only national arts university in Japan. Their drawings and small sculpture are on display.
With rigorous mastery, they combine an awareness of the long tradition of Japanese wood sculpture with current international movements in fine art. Together, they represent a cross section of current creative work being produced in Japan.
Sponsored by SU Art Galleries (SUAG), admission is free and the public is invited. Gallery hours are 10 a.m.-5 p.m. Monday-Thursday, noon-4 p.m. Friday-Saturday.
For more information call 410-548-2547 or visit the SUAG website at www.salisbury.edu/universitygalleries.