Wednesday, July 9, 2014
SU Art Galleries Presents 'Continuum' July 9-August 15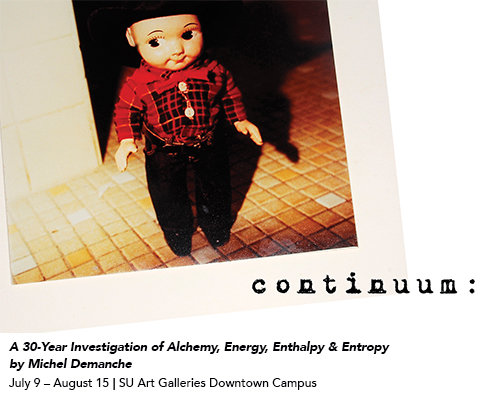 SALISBURY, MD---The Salisbury University Art Galleries – Downtown Campus presents works by University of Maryland Eastern Shore Assistant Art Professor Michel Demanche during the exhibit "Continuum" July 9-August 15. A reception with the artist is 5-8 p.m. July 18 during the Salisbury Arts & Entertainment District's monthly 3rd Friday celebration.

A native Texan, Demanche focuses her artworks on eminent disaster, from nightmares to storms to man-made destruction. Her most recent work is based on alchemical transformation, in the form of abstract paintings and silver gelatin photographs. Using reclaimed cameras and traditional printing methods, she has documented changes in her environment and the results to the native inhabitants. Along with photographs, she creates multi-layered pieces on paper, canvas or sculpture, transforming her photographs using found objects, graphite, colored pencils, paint, ceramic and wood.

Demanche bases her artwork on the perceptions and illusions experienced during childhood, adolescent years and adulthood. These three periods and the experiences within them create conflict and imbalance with our lives. Demanche's work is influenced by her own ideas of perception, illusion and memory, the conflict within, and the resulting imbalance.

"The world is a spiritual place, and that spirit is found through the subtle natural forces through which we move," she said. "I express that spirit as the chemicals of my medium transform my visions."

She has exhibited at the Whitney Museum of American Art, The Women's Museum in Dallas and the Affordable Art Fair in New York, among others. Her works are in public and corporate collections including SUNY Oswego, Chase Manhattan Bank and Frito Lay Corp.

Gallery hours are noon-6 p.m. Wednesday-Friday, noon-4 p.m. Saturdays. Sponsored by SU Art Galleries, admission is free and the public is invited.

For more information visit the SU Art Galleries website at www.salisbury.edu/universitygalleries.