Friday, May 24, 2013
SU Anthropology Students, Faculty Participate in Princeton's EastCon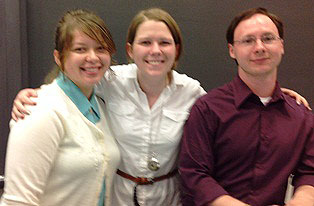 Cassandra Newcomb, Elizabeth Nelson and Chad Ralston

SALISBURY, MD---From pop music to Dance Dance Revolution, contemporary Asian popular culture recently took center stage during Princeton University's inaugural East Asian Undergraduate Conference (EastCon) — as did several members of the Salisbury University community.

Three SU students and one faculty member were among the 19 students and four professors presenting during the conference. They were senior Chad Ralston, junior Cassandra Newcomb and freshman Elizabeth Nelson, and Dr. Linda Dwyer of the History Department.

Ralston, an anthropology and sociology major from North Adams, MA, presented on "Hatsune Miku," a synthesized, software-based "vocaloid" singer developed by Crypton Future Media. The application has gained a large following of fans who relate to the animated character as they would a human entertainer.

Newcomb, an anthropology major from Salisbury, presented "My School Uniform Is Getting in the Way: Traditional Sex Appeal and Post-Industrial Individuality in Japanese Kawaii Music." "Kawaii" roughly translates to "cute" or "adorable" and has come to define popular segments of Japanese culture.

Nelson, a psychology major from Street, MD, presented "Music in Anime: Unveiling Its Messages," examining theme songs used in popular Japanese animation that share themes of social conscience, quest for identity, motivation for achievement and desire for love.

Dwyer was an invited speaker on the panel "Critical Perspectives on East Asian Popular Culture" with Dr. David Leheny, the Henry Wendt III '55 Professor of East Asian Studies at Princeton and faculty sponsor of the conference.

Other student presenters were selected from Princeton and Brown universities, Skidmore and Bryn Mawr colleges and the University of Virginia.

"I thought we were on even ground with the rest of the schools there, even though many of them have more resources," said Ralston.

Ralston enjoyed presenting and attending other presentations, which drew 40-100 people per session. Most of all, however, he was excited to share his passion with others.

"It was really cool to come together with people who were interested in the same things I am," he said.

SU has been recognized by The Princeton Review and others for its commitment to undergraduate research. For more information call 410-543-6030 or visit the SU Web site at www.salisbury.edu.