Tuesday, February 8, 2011
SU Alumnus Helton Volunteers With 'Extreme Makeover: Home Edition'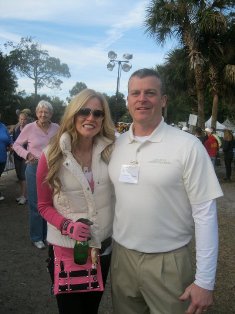 Extereme Makeover: Home Edition designer Paige Hemmis with SU alumnus Rick Helton

SALISBURY, MD---"Bus driver, move that bus!"

Millions of television viewers throughout the United States hear Extreme Makeover: Home Edition host Ty Pennington say that catch phrase during the show's "reveal" segment each Sunday.

Dr. Rick Helton got to hear it in person.

Helton, who earned his B.S. in physical education from SU in 1992 and his D.C. from Life University, GA, in 1998, was among the dozens of volunteers assisting with a recent production of the show in Titusville, FL, near his practice in Rockledge, FL.

In seven days, Extreme Makeover crew members rebuilt a house for Joe and Cindy Hurston, founders of Air Mobile Disaster Relief, a humanitarian program that provides medical supplies, food, clothing and water purifiers to areas around the world in need.

While the Hurstons, with their children, were on a relief mission, a pipe in their upstairs bathroom burst, and the resulting flooding destroyed the home and most of their possessions. Before Extreme Makeover: Home Edition stepped in, they were living in a mobile home.

While the episode featuring the Hurstons will not air until 8 p.m. Sunday, February 13, Helton shared one behind-the-scenes tidbit: in honor of Joe Hurston's aviation background, part of a retired Southwest Airlines plane was worked into the new home's architecture.

"Watching them bring that thing up was amazing," he said. "The whole house is amazing."

His practice, the Helton Chiropractic and Rehabilitation Center, was selected to serve as the on-site chiropractic provider following a referral from a friend. His office's work with the Washington Nationals Major League Baseball team during spring training helped solidify its reputation with the show's advance team.

Once the builders showed up, "Our job was to keep them working," said Helton, noting that the 24-hour construction took its toll on some crew members and designers. He helped staff the show's medical tent during five days of the seven-day construction project.

He not only worked with the construction crew, however, but also with some of the show's on-air personalities, which included Pennington, Paige Hemmis, Michael Moloney and Eduardo Xol.

"Once we were there for a few days and they got to know us a little better, we were just like part of their team," Helton said. "We got to go behind the scenes."

That included a peek inside the production trailer, where he got to see some of the technical aspects that go into filming and editing the show.

So when all is said and done, how much air time will the SU alumnus have? The short answer is, "None." Due to patient privacy restrictions, the medical staff is typically not shown on screen.

"We might be listed in the credits somewhere at the end," Helton said. Nevertheless, "It was a really rewarding experience."

For more information call 410-543-6030 or visit the SU Web site at www.salisbury.edu.