Thursday, August 16, 2012
SU Alumnus Embarks on Run Across America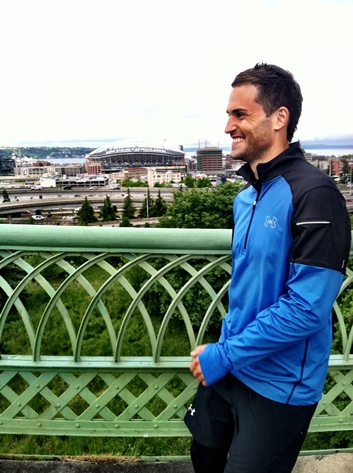 SALISBURY, MD---Chris Sams' passion for running - which will soon lead him on a journey across the United States - all started with Salisbury University's annual Turkey Trot.

In November 2005, the then-junior was bummed out from a shoulder injury that ended his days of playing rugby with SU's national championship-winning club team. A friend convinced him to instead try competing in the holiday-themed 5K. Once Sams took off running, he never looked back.

On Monday, August 20, Sams, a 27-year-old personal trainer, will embark on a five-month, over 3,000-mile Run Across America to spread messages about health and wellness. He takes off from Under Armour's Combine Training Center in Baltimore at 1 p.m.

"You can talk yourself into or out of anything, and I believe that I can do this," he said. "The mental challenge is much greater than the physical aspect. Running or training is basically a mind game; you have your ups and downs."

Sams plans to run about a marathon a day, taking off one day per week for rest which will be Sunday to practice yoga for his very important active recovery. He explained: "Running across America may seem very daunting, but you have to take one step and one day at a time, and break it down into many races. Before I know it, I will arrive in California."

Sams, who graduated in 2006 with a B.S. in exercise science, is a longtime sports fan who helped SU rugby earn a national title in 2004. He purchased his first Muscle & Fitness magazine at age 12. Over the years he "fell in love with the fitness world" and reads often about the human body and nutrition.

Following his Turkey Trot debut, Sams continued training with his friend, alumna Jessica Urie, for his first half-marathon in Lewes, DE, and later, the Men's Health URBANATHLON® obstacle course challenge in New York City. He has done the Boston Marathon three times, iron man races lasting over 10 hours, and most recently, a 50-mile mountain trail run in Lake Tahoe.

"You can be physically fit, but the thing most people don't realize is that you have to be mentally tough," Sams said. "I'm mentally prepared for this challenge."

This can-do attitude is what Sams strives to instill in his clients. "My favorite aspect of training is pushing someone's limits far beyond what they imagined," he said. "It's not only about losing weight; it's about how they feel about themselves and their confidence."

Sams credits his required internship and his SU professors, including former department chair Susan Muller, with fueling his interest.

"After studying exercise science at Salisbury, I was well equipped to earn my American Council on Exercise certification," he said. While interning at the former Ocean City Health and Racquet Club, he also connected with others in his major, including Kelly Whalen Wilchinski, Todd Bauer and Sara Hancschuh Easley, who later helped him land his first job, just a week out of college, at the Merritt Athletic Club in Baltimore's Federal Hill.

He became one of that gym's top trainers and after about four years moved on to FX Studios, which has a partnership with Under Armour. He trained Under Armour employees and traveled to places ranging from New York City and Boston, to Birmingham, AL, Los Angeles and Seattle to work with sponsored athletes and models for commercial shoots. He even made a few advertising appearances himself!

After his run, Sams plans to open his own company, New Addiction Training, in New York City. Attracted to the energy of that city, he hopes to contract with gyms in private hotels and luxury condos to offer elite personal training.

"When someone starts training with me they keep training," Sams said. "They develop a sense of addiction to a good thing. I absolutely love what I do. I don't consider it work."

Sponsors of Sams' journey include Under Armour for clothing and gear, Whole Foods Market for healthy and nutritious food, at&t for GPS tracking, and lululemon for yoga sessions.

John Moxley, a friend and fellow SU graduate, said "It is a testament to the University and the exercise science program that Chris left with such a passion for the field that he studied." Moxley is among many alumni, friends and supporters who will cheer Sams on during his adventure.

For a list of Sams' planned locations or to follow his blog, visit samsacrossamerica.com. For more information about SU, call 410-543-6030 or visit www.salisbury.edu.