Friday, May 6, 2011
SU Alumnus Competes on Golf Channel's 'Big Break'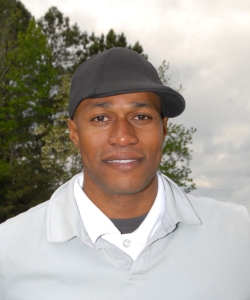 SALISBURY, MD---Can an M.B.A. degree improve a golf game? Salisbury University alumnus Carl Whyte thinks so.
By day, Whyte is the assistant vice president for information technology at Easton Bank and Trust. By night, he was an M.B.A. student in SU's first satellite cohort at the Eastern Shore Higher Education Center in Wye Mills, MD. He graduated from that program in December 2010.
The next month, he put his analytical and managerial skills to use — on the golf course.
The 33-year-old Jamaica native, who lives in Salisbury, was one of 11 competitors selected from thousands of applicants for the Golf Channel's Big Break Indian Wells, filmed in Indian Wells, CA. Now in its 15th season, the reality show offers players the chance to compete in a PGA tour event. Whyte will vie for over $50,000 in cash, an exemption into the 2012 Zurich Classic of New Orleans and other prizes.
A half-hour preview is 9 p.m. Sunday, May 8. The premiere is 9:30 p.m. Monday, May 16, and the series will air for nine consecutive weeks at 9 p.m. Mondays.
"Golf is all about managing your mind," Whyte said. "SU's M.B.A. program provided me a better understanding of management in general. As I went through classes, I learned lessons about managing money, individuals and expectations. It gave me an advantage on the show."
This season is different in that players are given cash at the beginning, which they have to manage while competing in challenges each week. They can bet on their own performance or use it to buy extra shots and improve their standing.
"You had to manage your game and understand how to hedge bets so you would be in the best position," he said. "My finance classes were helpful; I learned about hedging and thinking strategically to protect your investments, whether they fail or are successful."
Whyte, who has been playing golf for only seven years, uses a unique method. He has three different grips and has broken down the golf swing to the fundamental basics. He also carries a little red book with personal data on various shots.
"I see golf as an acronym: Game Of Limited Fundamentals," he said. "Using that concept, I wanted to test to see if I had what it took to compete at the highest level."
That's what inspired him to send in an application to the Big Break last fall. He took time off from his studies to travel to Orlando, FL, for an on-camera interview and was surprised when, two weeks later, he was selected!
"Golf is the ultimate sport; it tests every facet of your ability, especially the mind," he said. "It's intriguing because it can never be mastered, but I love the challenge."

A natural athlete and track star, Whyte represented Jamaica in national and international meets in high school. In 1997, he moved to the U.S. to attend the University of Maryland, Eastern Shore on a track scholarship.

Whyte's home golf course is Nutter's Crossing in Salisbury. This week, he played in the SU Golf Classic at the River Marsh Golf Club in Cambridge.

"When golf involves charity, or fundraising for a cause, it's just that more rewarding," he said. "I enjoy having fun while giving back."

For more information on Big Break Indian Wells, visit www.golfchannel.com/bigbreak. To follow Whyte, see www.facebook.com/jamericangolfer or twitter.com/jamericangolfer.