Friday, January 12, 2007
SU Alumna is New Leading Lady in Broadway's 'Phantom'
SALISBURY, MD---The holiday lights seemed a little brighter for Salisbury University alumna Jennifer Hope Wills. In December, she stepped into the spotlight with the lead role of Christine Daaé in The Phantom of the Opera at New York City's Majestic Theatre. The musical is the longest-running show in Broadway's history.
An Ocean City native, Wills is the 12th actress to play the Phantom's object of adoration in the Andrew Lloyd Webber musical. The production soon begins its 19th year at the theatre.
"Great actors are distinguished by the intense love of what they do; love that is seen as the joy of performance but, in truth, is love that is freely given to the audience and fellow actors," said Dr. T. Paul Pfeiffer, director of theatre at SU. "Jennifer is, and always has been, one of these great givers-one can see it in her eyes. On stage and off, she radiates joy. I have always known that Jennifer had a bright future and I am so pleased with her success."
Wills joined the show last April and had been performing as an alternate in the vocally-demanding role of Christine. "Playing this role is truly a dream come true for me; this was my father's favorite show," she said. "He used to bring us to NYC when we were younger to wait in the very long lines for $15 standing room tickets-and we always had a wonderful time. The first time my dad actually sat in a real seat was when I made my debut with this show."
Previously, Wills appeared on Broadway in The Woman in White, as well as in Wonderful Town, opposite actress Brooke Shields. She also played one of Disney's most popular heroines - Belle in Beauty and the Beast. Other roles include Sandy in Grease at New Jersey's famed Paper Mill Playhouse.
Wills' love of performing was nurtured by her theatrical parents who started Parker Playhouse in Ocean City. She spent many years entertaining audiences there and credits her parents with providing the spark and inspiration for her career. This childhood experience gave her, and her brother Dan, the ease and assurance on stage that most actors never really find even in adulthood, Pfeiffer said.
While an SU student, Wills performed under Pfeiffer's direction and tutelage in West Side Story, The Grapes of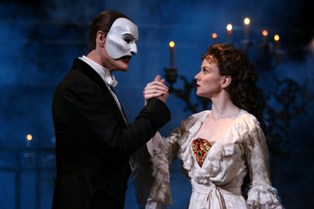 Wrath and her favorite, The Secret Garden. She said support from SU faculty and students instilled in her the confidence to head out into the real world and pursue her dreams of a career in theatre. "The intimate and nurturing environment allowed me to explore many interests and at the same time provided a strong focused guidance on my main path," she said. "This gave me an incredibly well-rounded education and preparation for life."
After graduating from SU summa cum laude with a bachelor's in music education, Wills earned a Master of Music in vocal performance and pedagogy from Indiana University, one of the nation's top schools of music. She has performed in musicals on the East Coast and around the country.
Based on the novel by Gaston Leroux, the award-winning The Phantom of the Opera tells the story of the hideously deformed composer who lurks below the Paris Opera stage. He exercises a reign of terror over occupants after falling in love with the young soprano.
Visit Wills' Web site at http://www.jenniferhopewills.com/.
For more information call 410-543-6030 or visit the SU Web site at www.salisbury.edu.