Friday, October 3, 2014
SU Again Named Among U.S. Military Friendly Schools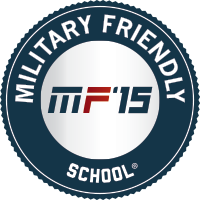 SALISBURY, MD---Salisbury University has been named among the nation's 2015 Military Friendly® Schools for the sixth consecutive year.
According to Victory Media, SU is applauded for going "above and beyond to provide transitioning veterans the best possible experience in higher education."
Salisbury is one of only 1,600 schools featured on MilitaryFriendly.com. The list was compiled from surveys of over 10,000 U.S. Department of Veteran's Affairs-approved schools nationwide and more than 4,000 student veterans.
Criteria include supportive campus programs, academic credibility, percent of military students, credit and flexibility for service, tuition assistance, graduation and employment rates, and military spouse policies.
SU also is included on the new Schools Matchmaker tool on GIJobs.com, which is a primary resource for veterans and military students to research schools that offer Post-9/11 G.I. Bill tuition benefits and Military Friendly® status.
Nearly 180 SU students currently use VA educational benefits, said Mancy Wilson, the veterans and military affiliated coordinator in the Registrar's Office. Through the Yellow Ribbon Program, an optional component of the Post-9/11 G.I. Bill, SU and other universities pay up to half the difference in tuition beyond the amount covered by the federal government.
SU offers a Student Military and Veterans Association, as well as an Army Reserve Officers' Training Corps (ROTC) program for students interested in entering the military.
For the complete list of Military Friendly Schools visit www.militaryfriendlyschools.com. For more information on G.I. Bill benefits, visit www.gibill.va.gov. For details about veteran affairs at SU, call 410-677-5388 or visit the SU website at www.salisbury.edu/veterans.