SU Adventures in Ideas Series Examines Hitchcock Saturday, February 15
Friday February 7, 2014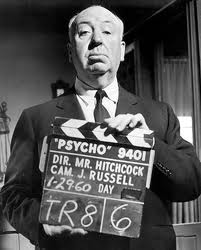 SALISBURY, MD---From Psycho to The Birds to Rear Window, Alfred Hitchcock's distinctive style earned him the nickname "Master of Suspense."
Drs. James Burton, David Johnson and Elsie Walker explore the renowned auteur's works, collaborations and continuing influence in the United States and beyond during "Alfred Hitchcock: Sight, Sound, Impact."
The next installment in Salisbury University's Adventures in Ideas humanities seminar series, their presentation is 10 a.m.-3 p.m. Saturday, February 15, in Teacher Education and Technology Center Room 179.
Burton, of the Communication Arts Department, is a contributing editor to the scholarly journal Literature/Film Quarterly. He teaches introduction to mass media, mass communication law, and media and society at SU. He is the coordinator for the Salisbury Wicomico Arts Council's Salisbury Film Society.
Johnson and Walker, co-coordinators of the film concentration in SU's English Department, are co-editors of Literature/Film Quarterly. In addition to teaching courses in film history, director studies, documentary and adaptation, Johnson is the author of the book Richard Linklater, part of the University of Illinois Press' Contemporary Film Directors series.
Walker teaches film, genre, international cinema, film theory, film noir and soundtracks at SU. She has written extensively on the role of music in film and is the author of the book Understanding Sound Tracks Through Film History, expected this year from Oxford University Press.
Sponsored by the Charles R. and Martha N. Fulton School of Liberal Arts and the Whaley Family Foundation, admission is $30, including coffee, snacks and lunch.
To register or for more information call Donna Carey at 410-543-6450 or e-mail dmcarey@salisbury.edu.