Monday, April 4, 2016
SGA Host "Stop Hatin' Week" April 4-8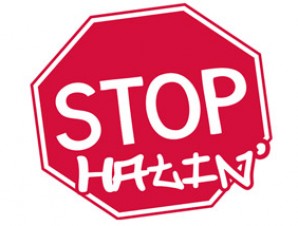 SALISBURY, MD---Salisbury University's Student Government Association (SGA) holds its eighth annual "Stop Hatin'" campaign April 4-8.

Events begin with a one-hour Diversity University workshop 7 p.m. Monday, April 4, in the Wicomico Room of the Guerrieri University Center. From 7-9 p.m. Tuesday, April 5, participants have an opportunity to find out where members of the University community hail from during a "Get to Know SU" International Night, also in the Wicomico Room.

The 2007 movie Freedom Writers, starring Hilary Swank and Patrick Dempsey, is screened 7 p.m. Wednesday, April 6, in Devilbiss Hall Room 123. The book is based on the book The Freedom Writers Diary, written by Long Beach, CA, teacher Erin Gruwell based on diary entries detailing the struggles of "at risk" students in her class and changes they hoped to make in their lives.

Please note: The "Flock Together" event on Sea Gull Square Lawn on Thursday, April 7, has been canceled due to forecasted inclement weather.

Students are invited to come together again to participate in the "Love is Louder" campaign 11 a.m.-1 p.m. Friday, April 8, in the Fireside Lounge of the Guerrieri University Center. The initiative provides support for those feeling mistreated, misunderstood or alone.

Stop Hatin' Week activities conclude with a "Tye Dy-Versity" tie-dying event from 2-4 p.m. that day in Red Square.

Sponsored by Multicultural Student Services and the SGA, admission to all events is free for the campus community. For more information email Natalie Herrera, SGA vice president of diversity, at sgadiversity@gulls.salisbury.edu or call 410-548-4757.