Thursday, January 30, 2014
Registration Open for Spring 'Learn with SU' Seminars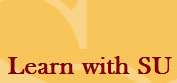 SALISBURY, MD---Registration is open for spring "Learn with SU" seminars, presented by the Association for Lifelong Learning in Salisbury with support from the Salisbury University Foundation, Inc.
Membership, for Delmarva Peninsula residents age 50 and over, is $30 for the semester and includes all courses. Courses scheduled this semester include:
"The American Short Story III: Redefining US" with Nancy Hesser;
"Aspects of the Settlement and Growth of the Lower Eastern Shore Through the 19th Century" with Dr. Ray Thompson;
"The Constitution and the Supreme Court: Religion and the Government Under the First Amendment" with Page Insley-Austin;
"D-Day — the Normandy Invasion" with Michael J. Roberts;
"We Are What We Ate — a Gastronomic History of Delmarva" with Phil Hesser;
"From Hoof Prints to Footprints: the Role of the People of Assateague Island" with Kelly Taylor;
"Great Decisions: Discussion of Major Issues Worldwide" with Jarvis Cain;
"Greece — From the Bronze Age to Democracy" with Joseph Chaikel;
"Learning to Look at Art: Gathering Meaning and Enjoyment Through Observation" with Tamara Kowalski;
"Poe: the Baltimore Raven" with Dorothy Yeatman; and
"The 'Spanish Tinge': Latin American Music and North American Jazz" with Phil Hesser.
Registration deadline is Friday, January 31. To request a membership and registration form, and a detailed catalog of course offerings, e-mail assocforll@hotmail.com or visit www.associationforlifelonglearning.org.
For more information about the series visit the Learn with SU website at www.salisbury.edu/lifelonglearning.