Tuesday, March 8, 2011
Public Radio Delmarva Becomes Delmarva Public Radio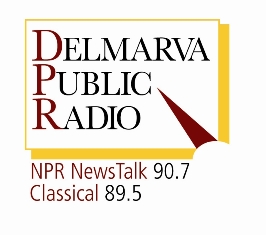 SALISBURY, MD---On March 14, Public Radio Delmarva ceased to exist … in name only.
Public Radio Delmarva becomes Delmarva Public Radio, a small, but significant name change, according to General Manager Gerry Weston: "Many listeners already call us Delmarva Public Radio. It flows better and makes more sense. We're excited about this very logical, and smart, new name."
The change will include new identifiers for WSCL, Classical 89.5-FM, and WSDL, NPR News Talk 90.7-FM. A new logo has also been developed.
Listener and volunteer Betty Pitney is looking forward to the change. "I've called them Delmarva Public Radio for years. And now it's official!"
WSCL and WSDL comprise Delmarva Public Radio. They are located on the campus of Salisbury University. Classical 89.5, WSCL, features NPR news and classical music. NPR News Talk 90.7, WSDL, is an all news and information format. Both are owned by the Salisbury University Foundation, Inc.