Wednesday, February 11, 2015
President's Distinguished Community Leadership Award Nominations Open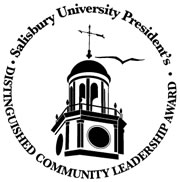 SALISBURY, MD---Know a person or organization that is making a difference in the community? Salisbury University wants to hear about them!

SU's Town-Gown Council is accepting nominations for its 2015 President's Distinguished Community Leadership Awards. Awards are presented in two categories: organization and individual. Winners will be recognized during SU's Spring Commencement.

"The University looks forward to again thanking those who have been remarkably generous to this community and celebrating them as exemplars of civic behavior for our students," said Robby Sheehan, Town-Gown Council chair. "Please take just a few minutes to tell us about deserving individuals and organizations."

Past individual winners include former Maryland Secretary of Agriculture Lewis Riley, Women Supporting Women Founder Sue Revelle, Henry Hanna III, Peninsula Regional Medical Center President and CEO Peggy Naleppa, Dr. Carolyn Stegman, Deborah Abbott, Dr. George Whitehead, Marty Neat and Lee Whaley.

Past organizational winners are the Community Foundation of the Eastern Shore, Women Supporting Women, MAC, Inc., the United Way of the Lower Eastern Shore, Dove Pointe, Habitat for Humanity of Wicomico County, the Salisbury Area Chamber of Commerce, Lower Shore Enterprises, Inc., and the Richard A. Henson Foundation, Inc.

Individuals and organizations in Wicomico, Worcester, Somerset and Dorchester counties in Maryland; Accomack and Northampton counties in Virginia; and Sussex County in Delaware are eligible. Nomination forms are available online at www.salisbury.edu/communityleadership.

Nomination forms and two letters of support should be sent to Robby Sheehan, Town-Gown Council Chair, Salisbury University, 1101 Camden Ave., Salisbury, MD 21801, or e-mailed to Gina Boobar, executive administrative assistant, at gmboobar@salisbury.edu. The deadline for nominations is 5 p.m. Friday, April 3; call 410-548-3316 with questions.

For more information, call 410-543-6030 or visit the SU website at www.salisbury.edu.