Monday, May 2, 2016
Presidential Citizen Scholars Present 'Informed and Engaged' Projects Tuesday, May 10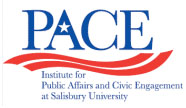 SALISBURY, MD---Eight Presidential Citizen Scholars from Salisbury University's Institute for Public Affairs and Civic Engagement (PACE) present their capstone civic engagement projects during the presentation "Informed and Engaged" 6 p.m. Tuesday, May 10, in Fulton Hall Room 111.

Students from multiple majors were assigned to take on projects impacting SU and the greater Salisbury area, with a focus on addressing the issues, community interactions and ways their work will continue in the future. Presentations include:

• Maya Alexander (psychology) and Karina Norwood (political science): "Improving Recycling in the Salisbury Community." The students presented recycling activities and tips at several community events.

• Radha Balaggan (biology): "Because Every Kid Deserves to Smile!" Balaggan partnered with Wicomico County Public Libraries and local foster care groups to provide dental care education and resources for previously underserved youth populations.

• Sunny Choudhary (biology): "Lack of Available Dental Care on SU's Campus." Her project focused on working with area dentists to bring affordable dental care to SU students.

• Julia Morrison (community health): "Implementing Oral Hygiene within SU's FTWL." Morrison worked with SU's Instructional Design and Delivery Office (IDED) to create a full-feature MyClasses Canvas module that will incorporate a dental hygiene unit into the University's Fitness and Wellness (FTWL) 106 course.

• Katherine Potvin (English-ESOL): "Cultivating Civic Engagement: Implementing a Service Learning Curriculum at SU." Potvin worked with IDED to develop a module that faculty may use to help bring best-practices service learning experiences into their courses. The module also will integrate into PACE's Civic Engagement Across the Curriculum program.

• Emily Rittenour (social work) and Jana Wallen (biology): "Why Should You Care? Making a Change through Voter Education." The pair organized voter information events on campus to help educate SU students about voting and encourage them to vote.

A reception follows in the University Gallery of Fulton Hall.

The Presidential Citizen Scholar Program is a multi-faceted, civic engagement experience that prepares students to become community leaders now and in the future. Students are admitted only by the invitation of SU President Janet Dudley-Eshbach. Students who are invited to apply submit their application to PACE for review prior to acceptance.

For more information call 410-677-5045, email pace@salisbury.edu or visit the PACE website at www.salisbury.edu/pace.