Perdue School Students Finalists in 2006 College Fed Challenge
Tuesday November 21, 2006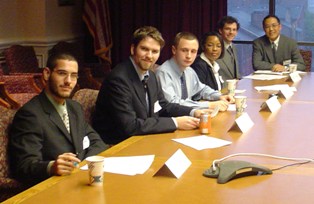 Salisbury University's 2006 College Fed Challenge Team, from left: John Paul Rothenberg, Eric Siegfried, Iakov Boyko, Joso Namme Luma, Matthew Trommatter and Dr. Ying Wu, faculty advisor.
SALISBURY, MD---When it comes to economic policy, Salisbury University students are leaders in the region. A team of undergraduates from SU's Franklin P. Perdue School of Business was one of two finalists competing in this year's College Fed Challenge preliminary round recently held at the Baltimore Federal Reserve Bank.
Perdue team members Iakov Boyko, Joso Namme Luma, John Paul Rothenberg, Eric Siegfried and Matthew Trommatter placed SU in the top two at this year's event. Dr. Ying Wu of the Economics and Finance Department serves as faculty advisor.
This is the third year SU has done well, winning the competition in 2002 and finishing as a finalist in 2003. The competition calls for five-member teams to undertake research, analyze data about current and near-term economic conditions, and decide on and recommend a specific course for monetary policy by deciding whether to raise, lower or maintain the federal funds interest rate. The competition culminates with each team's 20-minute presentation before a panel of judges at a mock meeting of the Fed's Open Market Committee.
During its presentation, SU's team raised concerns about the effects of persistent inflationary pressures as well as the ongoing housing market downturns on a sustainable economic growth with price stability; in particular, the team made a strong case for the Fed to bank on its credibility in anchoring inflation expectations and maintaining price stability.
"This was my second time to coach SU students and have the privilege to witness them receiving the prestigious honor from the Federal Reserve," said Wu. "They have well represented SU and the Perdue School in this tough competition."
Some dozen colleges and universities competed in the event including the College of Notre Dame, George Washington University, Gettysburg College, McDaniel College, Shippensburg University, Towson University and the University of Delaware, whose teams the Perdue School bested. Mount Saint Mary's University won the Baltimore preliminary and was bested by Virginia Commonwealth University for the Fifth Federal Reserve district title.
For more information call 410-543-6030 or visit the SU Web site at www.salisbury.edu.
SHARE