Monday, September 16, 2013
Perdue School Faculty Publish in 'Journal of Business Case Studies'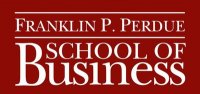 SALISBURY, MD---Research by faculty from Salisbury University's Franklin P. Perdue School of Business appears in the current edition of the Journal of Business Case Studies.
The study, by Drs. Richard Hoffman, Mo Brown Jr. and Frank Shipper of the Management and Marketing Department explores the genesis of MBC Ventures, Inc., a Maryland-based company that shifted to an employee-owned management model with union support.
Founded in 1852 as the Maryland Brush Co., MBC manufactured paint and cleaning brushes for nearly 160 years. In 1904, it became part of Pittsburgh Plate Glass (later known as PPG) and remained a division of that diverse company for more than eight decades. In 1987, PPG announced it was seeking a buyer for the MBC division.
In a unique partnership, the United Steelworkers of America helped orchestrate an employee buyout of the company, transforming it into an employee-owned business. This structure allowed the company not only to avoid layoffs, but also recently has given it an opportunity to diversify, shutting down its paintbrush line and entering the solar panel manufacturing field with its unique design.
SU's management and marketing faculty members have a strong background researching employee-owned companies. Their studies have been referenced by national media, including MSNBC and The Wall Street Journal, and featured on websites such as the Aspen Institute's CasePlace and wetheowners.com.
Universities using these studies in the classroom include over 700 in the United States, such as the Massachusetts Institute of Technology (M.I.T.), the University of Michigan and the University of New Hampshire. They are used in engineering as well as business schools in teaching strategic decision making and entrepreneurship.
In addition, the studies have attracted attention from over 125 countries and are being used at prestigious international universities such as the Indian Institute of Management (I.I.M.) in Calcutta.
For more information call 410-543-6030 or visit the SU Web site at www.salisbury.edu.