Friday, October 2, 2015
Peacherine Orchestra Presents 'The Freshman' With Original Score October 14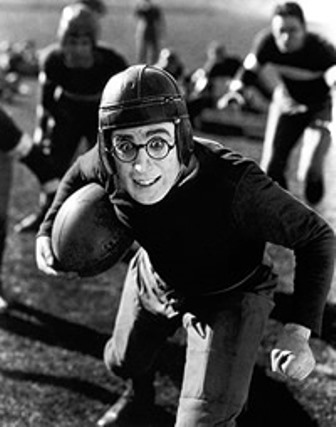 SALISBURY, MD---Forget Dolby Surround, THX and even Vitaphone. At Salisbury University, movie music is going live.
SU hosts a screening of Harold Lloyd's classic 1925 comedy The Freshman, accompanied by the Peacherine Ragtime Society Orchestra, performing the film's original score. Curtain is 7 p.m. Wednesday, October 14, in Holloway Hall Auditorium.
Dr. Maarten Pereboom, dean of SU's Charles R. and Martha N. Fulton School of Liberal Arts, hosts.
The Freshman stars Lloyd as a first-year college student seeking to become popular by joining the football team. One of Lloyd's most popular movies, it was one of the first 50 films selected for preservation in the U.S. National Film Registry by the Library of Congress. Movies in the registry are chosen based on their cultural, historical or aesthetic significance.
The Peacherine Ragtime Society Orchestra was founded in 2010 by University of Maryland, College Park, student Andrew Greene, who serves as its director and conductor. Hailed by The Washington Post as "the premier American ragtime ensemble," it recreates the syncopated stylings of a bygone era, including ragtime, theatre and dance music.
The presentation represents a partnership between Peacherine and Harold Lloyd Entertainment, Inc., celebrating the 100th anniversary of Lloyd's debut as a film star.
Sponsored by the Cultural Affairs Office, admission is free and the public is invited. For more information call 410-543-6271 or visit the SU website at www.salisbury.edu.