New SU Sculpture Honors Harriet Tubman
Tuesday September 22, 2009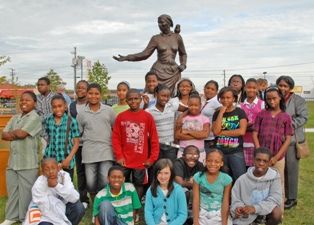 SALISBURY, MD---Salisbury University celebrated the life of Harriet Tubman, the "Moses of her people," on Tuesday, September 22, with the unveiling of a larger-than-life bronze sculpture.
According to its creator, Dr. James Hill of the SU Art Department, it is believed to be the first commemorative three-dimensional likeness honoring Tubman on her native Eastern Shore. The sculpture stands on the lawn of the Teacher Education and Technology Center and is visible from Route 13. At the unveiling, the acclaimed American Spiritual Ensemble sang.
"In years to come I believe thousands of visitors will be drawn to the Salisbury University campus to see this remarkable sculpture and to learn about the historic significance of Harriet Tubman in the life of our nation," said SU President Janet Dudley-Eshbach. "Her courage, intelligence and commitment to freedom still hold lessons for us today. I applaud Dr. Hill, and the SU students and faculty emeriti who worked with him during the past four years. Together, they have turned a wonderful idea into a striking work of art."
Born in Dorchester County, MD, circa 1822, Tubman was integral in forming the Underground Railroad, a clandestine network that led slaves from Maryland and the South to freedom in Canada in the 1850s. Tubman was personally responsible for freeing hundreds of slaves during as many as 19 trips on the "Railroad."
She aided the Union Army during the Civil War, recruiting and training spies and scouts, and leading at least one charge along the Combahee River in South Carolina that disrupted Southern supply lines and freed more than 750 slaves. Following the war she promoted education in the South and, with friend and supporter Susan B. Anthony, became a national spokeswoman for the suffrage movement.
She also opened the John Brown Home for Aged and Indigent Colored People, later named the Harriet Tubman Home for the Aged. Today, that building and her home, both in Auburn, NY, are listed on the National Register of Historic Places.
"Can the value of this remarkable woman be doubted? Her efforts to end slavery, and additionally, her fight for women's suffrage, speak eloquently about her ability," said Dr. Clara Small, SU professor of history and past member of the Maryland Governor's Task Force on Slavery.
Earlier this month, Congress announced some $1.2 million from the National Park Service's Land and Water Conservation Fund will be used to develop outdoor recreation facilities at a Harriet Tubman Underground Railroad State Park in Dorchester County, with development planned to begin in 2010.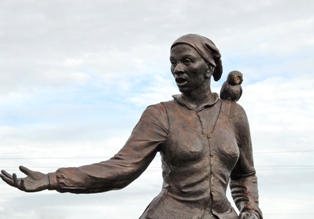 Hill's sculpture depicts Tubman walking through a Dorchester County marsh, looking behind with her hand outstretched to those whom she is leading to freedom. With her are two companions: a saw-whet owl and a rabbit, looking ahead.
According to Hill, they symbolize two aspects of Tubman. One is a freedom fighter--the wide-eyed owl seeking slaves to liberate. This saw-whet owl lives in the swamps of the Mid-Atlantic seaboard, but migrates to Canada each year, just as Tubman did. The other is the rabbit, which traditionally represents vigilance, intuition and forward progress despite fear. This burrowing animal goes "underground," symbolizing Tubman's role as a conductor of the Underground Railroad. Hill's rabbit is alert, just as Tubman was ever alert.
"This sculpture creates a physical presence on our campus for a historic and legendary figure from Maryland's Eastern Shore. Tubman's presence among us inspires us to learn and to strive for a better world," said Dr. Maarten Pereboom, dean of the Charles R. and Martha N. Fulton School of Liberal Arts.
Hidden in the base are 10 sculpted seashells that Hill hopes will attract the interest of children whom he envisions searching for the shells like an Easter egg hunt. Once they're involved with the sculpture, he said, they may be more open to learning about Tubman and the messages her life conveys. Like Tubman, "We need to have a cause greater than ourselves, to trust that we're doing the right thing and believe in what we're doing," he said.
From the beginning, Hill involved SU students in many stages of the project. To capture Tubman's body language, he borrowed an antebellum dress from the costume shop of SU's Bobbi Biron Theatre Program and asked a student to model different poses until he found the one that depicted the moment he hoped to capture. Students assisting with the project included Mike Benson, Jason Bromley, Jen Drake, Sarah Halcot, Christopher Hill, Robbie Johnson, Sam Jones, Diana Mosteller, Keely Patton, Tom Ruch, Dan Stachurski, Phillip Taylor and Tom Wright. SU faculty emeritus Gerry Patt Jr. also helped with the sculpture's casting. Faculty emerita Marie Cavallaro documented the procedure. A maquette Hill created to guide him in casting the large work has been on loan to the Maryland Senate.
"Harriet Tubman stands tall as an important figure in our nation's history in leading countless people to freedom," said Dr. Dennis Pataniczek, dean of the Samuel W. and Marilyn C. Seidel School of Education and Professional Studies. "We are honored that a sculpture in her likeness will grace the lawn of the Teacher Education and Technology Center not only as an admirable work of art, but as a symbol that education continues to lead people to their highest potential."
The Tubman work joins 30 others in SU's figurative sculpture collection, established in 1994 and located in buildings and throughout the grounds of campus. For more information call 410-543-6030 or visit the SU Web site at www.salisbury.edu.
* * *
Harriet Tubman: A Brief Biography
Although she was only about five feet tall, Harriet Tubman was a giant of American history. Born on a plantation in Dorchester County, MD, Araminta Ross took her mother's name "Harriet" as a teenager and in 1845 married John Tubman. They would later separate but she retained his name.
Tubman learned that her mother had been freed on a technicality due to the death of a previous slave owner, and, under that technicality, Tubman should have been freed as well. She thought about pursuing her freedom through the legal system, but was advised that courts were unlikely to hear the case.
When her brothers were in danger of being sold to slave holders in the Deep South in 1849, however, she proposed they all escape north together. Her brothers refused, leaving her to flee alone to Philadelphia, where she was emancipated. Shortly thereafter, however, her freedom was revoked under the U.S. Fugitive Slave Law of 1850. She then secretly returned to Maryland, where she became a leading figure on the Underground Railroad.
Despite her small size, Tubman was a force to be reckoned with, carrying a rifle not only to defend herself against pro-slavery activists, but to ensure none of the slaves she helped free had second thoughts about escaping. She did not want them returning and sharing the Railroad's secret paths, hiding spots or the names of sympathizers.
She financed many of her Underground Railroad missions herself, but also received financial support from luminaries including Susan B. Anthony, Ralph Waldo Emerson, Louisa Mae Alcott and William H. Seward.
Following a lifetime of heroism—which also included service to the Union Army during the Civil War and support of the women's suffrage movement—Tubman died on March 10, 1913.
* * *
About the Artist
Dr. James K. Hill is a respected teacher and artist who earned his Ed.D.C.T. from Columbia University. He came to Salisbury University in 2001 and served as chair of the Art Department until 2008, during which time the department enjoyed remarkable growth.
His works have been featured in the public collections of the Chicago Art Institute and Museum of Fine Arts in Santa Fe, among others. Locally, he has worked with the Sculpture Committee of Urban Salisbury to bring student-designed art to beautify Route 13 and the downtown area.
* * *
About the Salisbury University Sculpture Collection
Founded by former Salisbury University President Thomas Bellavance in 1994, the SU Sculpture Collection consists of 31 pieces displayed both indoors and out across campus. The collection is strong in late 19th and early 20th century Beaux Arts sculpture with works by Augustus Saint-Gaudens, who was responsible for the development of that style in the United States; Daniel Chester French, who sculpted the figure of Lincoln seen at the Lincoln Memorial; Frederick McMonnies, who created the doors to the Library of Congress; and Herman Atkins McNeil, best known for his western sculptures. Also included is "Pierre de Wissant," a work by August Rodin; two sculptures originally made for the American Museum of Natural History ("Wounded Comrade" by Carl Akeley and "Timber Wolf Group" by William Turner); and a piece originally commissioned by Dr. Jane Goodall ("Contemplation" by Bart Walter).