Thursday, November 3, 2011
New Education Book by SU's Hammond Draws Rave Reviews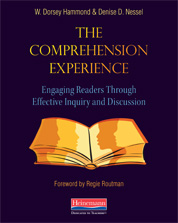 SALISBURY, MD---The Comprehension Experience, a new book by Dr. Dorsey Hammond of Salisbury University's Teacher Education Department, has received rave reviews.

Co-authored by education consultant, mentor and writer Denise Nessel of Australia, the book is described by David Pearson of the University of California as "a gift to the profession."

The Comprehension Experience explains how to teach effective critical thinking processes and promote discussions of K-12 students with fresh, research-driven practices. According to Hammond and Nessel, readers must do more than master skills and learn strategies; they must have highly engaging, deeply satisfying experiences with narrative and informational texts.

Well-known literacy author of Reading Essentials, Regie Routman writes "The Comprehension Experience is the rare book that causes us to rethink what we thought we knew about comprehension instruction."

Hammond and Nessel are both experienced in research and classroom practice. "Most important," they assert, "is to promote readers intellectual and emotional engagement with texts every day through effective thinking and discussion." The authors also provide classroom dialogues to describe instruction in action. The book is available from Heinemann Publishing.

For more information call 410-543-6030 or visit the SU Web Site at www.salisbury.edu.