Wednesday, September 5, 2012
Nabb Research Center Hosts 'Hearts Away, Bombs Away' Book Signing Thursday, September 13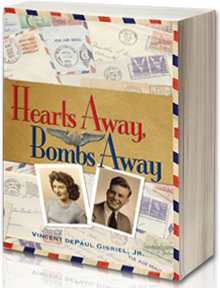 SALISBURY, MD---For Vince Gisriel Jr., correspondence between his parents during World War II provided a time capsule, highlighting military practices and life on the home front during one of the nation's most trying times.

Gisriel has turned their real-life love story, captured in those decades-old letters, into the book Hearts Away, Bombs Away. He discusses his research and signs copies of the book 2:30 p.m. Thursday, September 13, at Salisbury University's Edward H. Nabb Research Center for Delmarva History and Culture. The center is located in SU's East Campus Complex, 190 Wayne St.

Admission is free and the public is invited. For more information call 410-543-6312 or visit the Nabb Research Center Web site at http://nabbhistory.salisbury.edu.