Monday, April 9, 2012
Nabb Research Center Hosts 30th Anniversary Fundraiser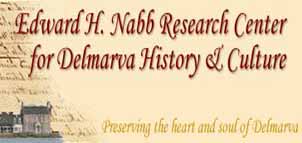 SALISBURY, MD---The Edward H. Nabb Research Center for Delmarva History and Culture at Salisbury University celebrates its 30th anniversary by going back to the decade when it all started — the 1980s.

The center holds a fundraiser in honor of its 1982 inception 6-9 p.m. Saturday, April 21, in the Bistro of SU's Commons. The "Step Back in Time" party features '80s music, hors d'oeuvres, door prizes and a silent auction.

Tickets are $75 per person and may be purchased at the Nabb Research Center, 190 Wayne Street, or by calling 410-543-6012. RSVPs are requested by Friday, April 13.

Sponsors include SU President Janet Dudley-Eshbach, Thomas Fooks V, Kathryn Washburn Niskanen, G. Ray and Klaudia Thompson, the Wicomico Historical Society, and SU's Charles R. and Martha N. Fulton School of Liberal Arts and Provost's Office (platinum); Pierre and Peggy Genvert (gold); Randy and Smaro George, Michael and Jonna Hitch, George and Connie Strott, SU's Office of Graduate Studies and Research, and Twilley, Rommel and Stephens, P.A. (silver); and Terry and Diane Allen, Salisbury Optical and SU's Blackwell Library (bronze).

For more information visit the Nabb Research Center Web site at http://nabbhistory.salisbury.edu.