Thursday, August 14, 2014
Nabb Center Presents 'Mapping Delmarva's Past' Exhibit August 25-December 12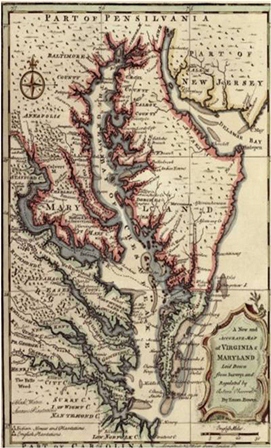 SALISBURY, MD---Before GPS, before MapQuest, there were actual maps.

Salisbury University's Edward H. Nabb Research Center for Delmarva History and Culture explores the area through the eyes of some of the earliest cartographers in "Mapping Delmarva's Past." The exhibit is on display in the center's gallery, 190 Wayne Street, from August 25-December 12.

A reception with Dr. G. Ray Thompson, center director, is 7 p.m. Monday, September 8. Light refreshments will be served.

Featuring the center's map collection, the exhibit showcases the changing perceptions of early explorers of the Delmarva Peninsula, as well as how the region has changed throughout centuries.

Gallery hours are 1-4 p.m. Monday, Wednesday and Friday. Sponsored by the Nabb Research Center, admission is free and the public is invited.

For more information call 410-543-6312 or visit the Nabb Research Center website at http://nabbhistory.salisbury.edu.