NCUR '98 at SU: Fond Memories from an Alum
Tuesday January 22, 2008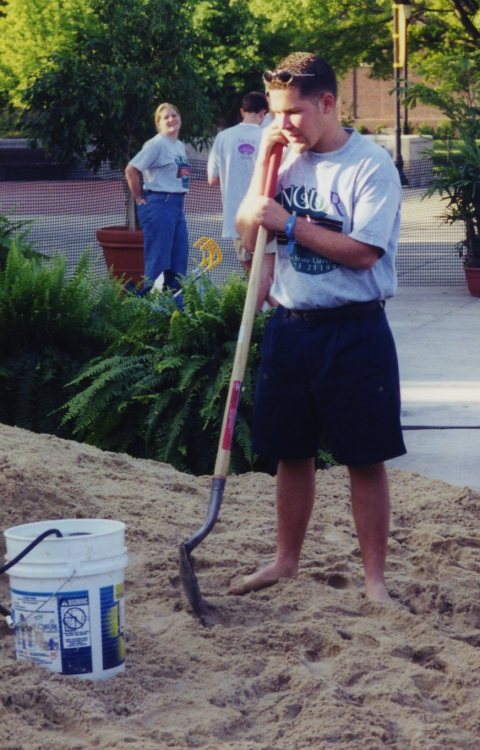 SALISBURY, MD---Sand, sand and more sand. That's what Salisbury University alumnus Jason Curtin remembers most vividly from when the 1998 National Conference on Undergraduate Research (NCUR) came to campus.
Curtin, then an SU senior, and other student volunteers spent hours shoveling 20 tons of sand around Red Square for NCUR's celebratory beach party. Complete with a 15 foot-wide NCUR sandcastle sculpture, beach chairs and a steel drum band, the party welcomed students from across the country to Maryland's Eastern Shore.
"I remember it was a beautiful night, and the beach party gave us the chance to interact with students who were here to present," Curtin said. "NCUR was a big deal, and a great way to showcase SU. The whole campus pitched in, from housekeeping to catering to students."
Fast forward 10 years. Now SU's Director of Alumni Relations and Annual Giving, Curtin will be on hand when NCUR returns to SU April 10-12. This time he's a staff volunteer, responsible for co-planning the Friday night beach party along with Derek Tennant, SU's three-time Fun Day coordinator.
"It was such a hit the first time we are bringing it back," Curtin said, promising food, music…and more sand, of course. Held 5:30-8:30 p.m. on the lawn of Henson Science Hall, the beach party is open to the campus community.
But in order to pull it off, volunteers are needed. Not only for the beach party, but also before and during the 22nd annual conference, when some 2,600 of the nation's top undergraduate scholars are expected to descend on campus.
All volunteers will receive a free conference T-shirt. Another perk is the opportunity to network with students and faculty from campuses nationwide, Curtin said. This may open up doors for SU students to learn about grad schools.
With students presenting in 56 unique disciplines, more than 300 institutions will be represented, including Cornell University, Penn State University and the University of North Carolina, among others. "I sat in the Perdue School of Business and watched some of the 1998 presentations," Curtin said. "There's some fascinating research out there."
To ensure the conference runs smoothly, NCUR organizers are looking for an extensive team of 500 to 600 volunteers. "Any students, faculty and staff willing to help are welcome," said Heather Holmes, NCUR volunteer coordinator and SU's director of Student Activities, Organizations and Leadership. Student clubs, honor societies and other organizations are especially encouraged to sign-up to volunteer as a group.
From stuffing conference packets, to providing airport shuttles, to distributing food, volunteers may choose how they'd like to help. "We need everything from setting up rooms and signs to manning registration and information tables," Holmes said. In addition, NCUR organizers are seeking faculty and student moderators to assist with student presentations and poster sessions.
NCUR is the largest professional organization in the country devoted to undergraduate research. SU is the only university in Maryland to host NCUR and the first comprehensive university in the United States to host two NCUR conferences.
To register as a volunteer, visit the SU NCUR Web site at www.salisbury.edu/ncur22. For more information, contact Holmes at 410-546-6928.

SHARE