'My Children! My Africa!' Continues Through October 19
Friday September 19, 2008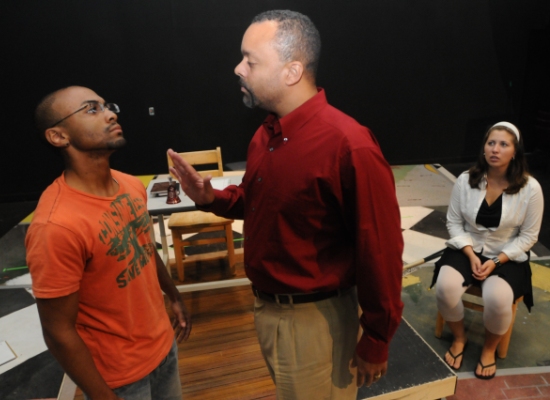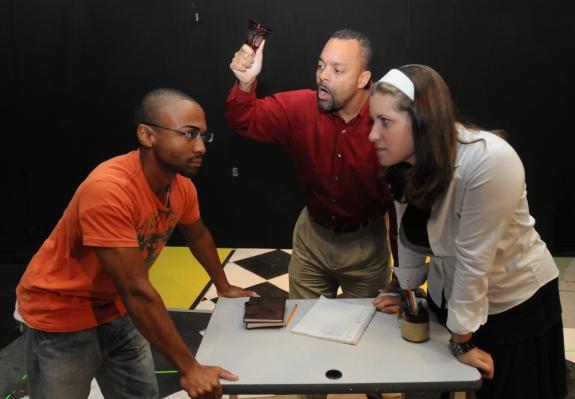 Pictured during a rehearsal for My Children! My Africa! are Brandan Pippens, John Wesley Wright of SU's Department of Music, and Emily Jablonski.
SALISBURY, MD---When it came to apartheid, South African playwright Athol Fugard took a minimalist approach to deconstructing a major issue with his 1989 play, My Children! My Africa!
Salisbury University's Bobbi Biron Theatre Program inaugurates its 2008-09 season with a presentation of this groundbreaking story Thursday-Sunday, October 9-12 and 16-19, in the Black Box Theatre of Fulton Hall. Curtain is 8 p.m., except Sundays which is 2 p.m.
Directed by Andrew Heller of SU's Department of Theatre and Dance, the story speaks against the injustices of apartheid and protests the African National Congress' call for a school boycott because of its damage to a generation of South Africans.
The three-person cast includes: teacher Mr. M (played by John Wesley Wright of SU's Department of Music), and students Thami Mbikwana (Brandan Pippens) and Isabel Dyson (Emily Jablonski).
Advocating for a peaceful end to apartheid and racial equality in South Africa in the mid-1980s, Mr. M pairs these two students, one black South African and one white South African, for a national literary quiz team. The venture begins amicably. As political pressures rise, however, Thami seeks a more radical means to ending apartheid than Mr. M is willing to endure, and Isabel is no longer sure what to think.
"Secrets are a large part of this play," Heller said. "Each character 'confesses' many hidden truths and feelings to the audience. It is a direct confession, one that puts the audience on the defensive, at times. As Americans, we may be unfamiliar with the organization of the Congress of the People and its resulting Treason Trial in Kliptown, we may be unfamiliar with the massacre of Sharpeville, and we may even be unfamiliar with the dates and events of the struggle in our own country. We are not, however, unfamiliar with injustice; we are not unfamiliar with what is wrong and what is right."
The Washington Post calls Fugard "a kind of poet laureate of heartbreak during South Africa's bleakest hours." The Philadelphia Tribune calls the characters "captivating." The Philadelphia Weekly defines the play as "powerful and compelling."
Tickets are $12, $10 for seniors. This play is recommended for mature audiences.
For tickets call the SU Box Office at 410-543-6228. For more information call 410-543-6229 or visit the SU Web site at www.salisbury.edu.