Wednesday, November 2, 2011
Maloof Speaks on 'Eastern Shore Forests' Monday, November 7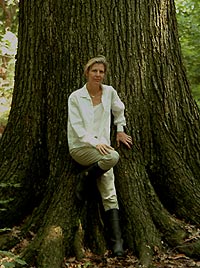 SALISBURY, MD---What did the Eastern Shore's forests look like 500 years ago? What are its native forest types?
Dr. Joan Maloof, faculty member in Salisbury University's Biological Sciences Department, answers these questions and more during her talk, "Eastern Shore Forests: Past, Present and Future," 7 p.m. Monday, November 7, in Henson Science Hall Room 103.
During the presentation, she offers a synopsis of her research on how the Shore's forests have been classified and shares the results of her studies on The Nature Conservancy's Nassawango Preserve.
Maloof is the author of Teaching the Trees: Lessons from the Forest and Among the Ancients: Adventures in the Eastern Old Growth Forests. She is working to develop an old-growth forest network, which will allow one forest in each county in the U.S. to remain unlogged and open to the public.
Sponsored by SU's Environmental Students Association and the Wicomico Environmental Trust, admission to her talk is free and the public is invited. Maloof will be available to sign books after the talk.
For more information call 410-543-6030 or visit the SU Web site at www.salisbury.edu.